Finding a job can be hard. Once you have finished your degree or any level of education, it can be quite daunting to step into the job market. More often than not, people have no idea where they should start and how they can apply for a job. They end up randomly applying to whatever they come across, which causes confusion and stress. Consequently, they end up with either no job or a job that they don't like or aren't qualified for. Thankfully, this is the era of the internet and so people have the option of job boards.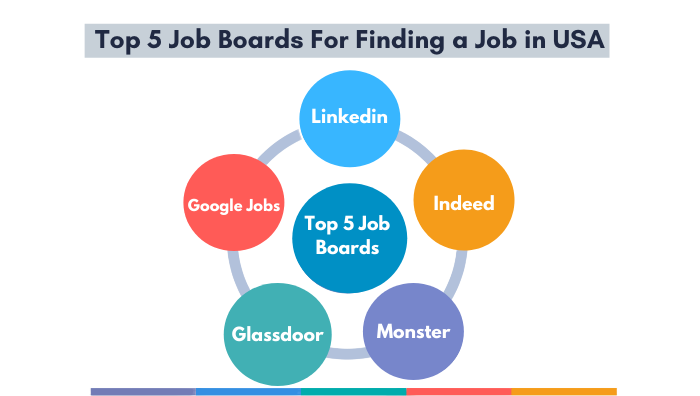 What is a job board? You might ask. Essentially, a job board is a website that has a list of available jobs from all over the world, which you can filter through with options such as region, skills, education, experience, pay range, and much more. Depending on the person and these filters, the candidate is shown a list of the jobs that fit their preference. They can then apply to it in a few simple clicks. Job boards are kind of the equivalent to classified ads but even better because you can then easily apply for the job on the same platform. There are tons of job boards in the USA offering these services and providing employment opportunities to thousands.
Best Job Boards in the USA
When it comes to job boards, there are so many options available, each with so many interesting and innovative features to help job seekers. This makes it very difficult to choose only a few to talk about. Nevertheless, here is a list of some of the best job boards in the USA.
If you have ever tried looking for a job then you must have heard of LinkedIn. It is perhaps the most popular platform for both job seekers and recruiters. Launched in 2003, this American-based social media platform is run both on mobile phones and desktops and specializes in connecting companies with potential candidates. Based in California, this company has around eight hundred and ten million registered users from two hundred different countries. It provides detailed information about the job and what it might entail.
This job board also allows the company and the users to create a public profile. This is so that they may familiarize themselves with each other and gain an idea about whether or not they may be well suited. In addition, the messaging option on this job platform gives it an informal touch that allows the companies and candidates to interact more comfortably. This is one of the most popular job boards in the USA for a reason.
Indeed is a subsidiary of the Japanese company Recruit Co. Ltd and was launched in 2004. This job board is co-based in Texas and Connecticut and boasts around two hundred and fifty million users. According to research an average, ten new job listings are added to this platform every second, which is a staggering number. The best thing about this job board is that you do not need to be registered to be able to use its services. Anyone can easily open the website, search for a job among its wide variety, and apply without having to go through the hassle of creating an account or paying for any kind of registration.
The most interesting part about this platform is that it provides a review section in which people can share their experiences with a certain company, as well as salary comparisons. Through this, you can get a realistic idea about what you are signing up for or what you might receive from the company. The platform is super fast and easy to use and there are a lot of filters through which you can easily find the perfect job.
Established in 1994, Monster was started with the aim to bring companies and individuals closer so that the recruitment process may be made easier. It has since then grown into a giant, where every minute 29 resumes are uploaded and seven thousand and nine hundred queries are entered. The reason it is not number one among these job boards is that it does provide as many filters as the others. It has a rather limited range which can be due to its older design or algorithm, though it has updated quite a bit since its original launch.
Another factor is that you need an account before you can go job hunting on Monster. Though it is relatively easy to make an account using your email address, it still proves to be a hurdle when it comes to the platform's popularity. Furthermore, not all of its services are free. To access features such as salary comparison, you need to make a premium account, which can cost a hefty penny.
Founded in 2008, what set Glassdoor apart was its focus on transparency and honesty. This job board focused on establishing honest communication between the company and the candidate by providing real reviews and salary comparisons. Glassdoor now has around 1.9 million employers in its database, 100 million company reviews and insights, and over 11 million job listings. Furthermore, Job seekers can simultaneously search for open jobs and read detailed information on each company's culture, CEO, benefits, and salary data. Using Glassdoor is rather easy. All you need to do is make an account in which you will be asked to provide your detailed information, including education, experience, skills, and much more. Then the platform generates a kind of CV for you and with a few simple clicks and with clear instructions, you can apply to any job you want.
Google is the most used search engine but did you know that it can also be used to search for a job? Though most people don't recognize Google as a job board, it is the first place they come to when they're job hunting. Most other job boards are linked to Google so a simple search allows the job seeker to quickly gain access to a myriad of different job openings on different boards.
Final Thoughts
To put it simply, there are many job boards in the USA, each providing a large variety of options and filters through which you can search for your dream job and easily apply to it as well. All these options are great and at your convenience, you can choose any one of them.