Artificial intelligence is now taking over the world faster than ever before. All the work sectors incorporate AI in some way or the other. Artificial intelligence automates all the manual processes that are very time-consuming. Candidate engagement is also backed by artificial intelligence. AI improves candidate engagement during recruiting by streamlining the recruitment processes and workflows. An HR automation software not only automates the candidate sourcing and screening process but also helps in onboarding and building rapport
Did you know? 96% of HR professionals believe AI is the reason behind improving candidate retention.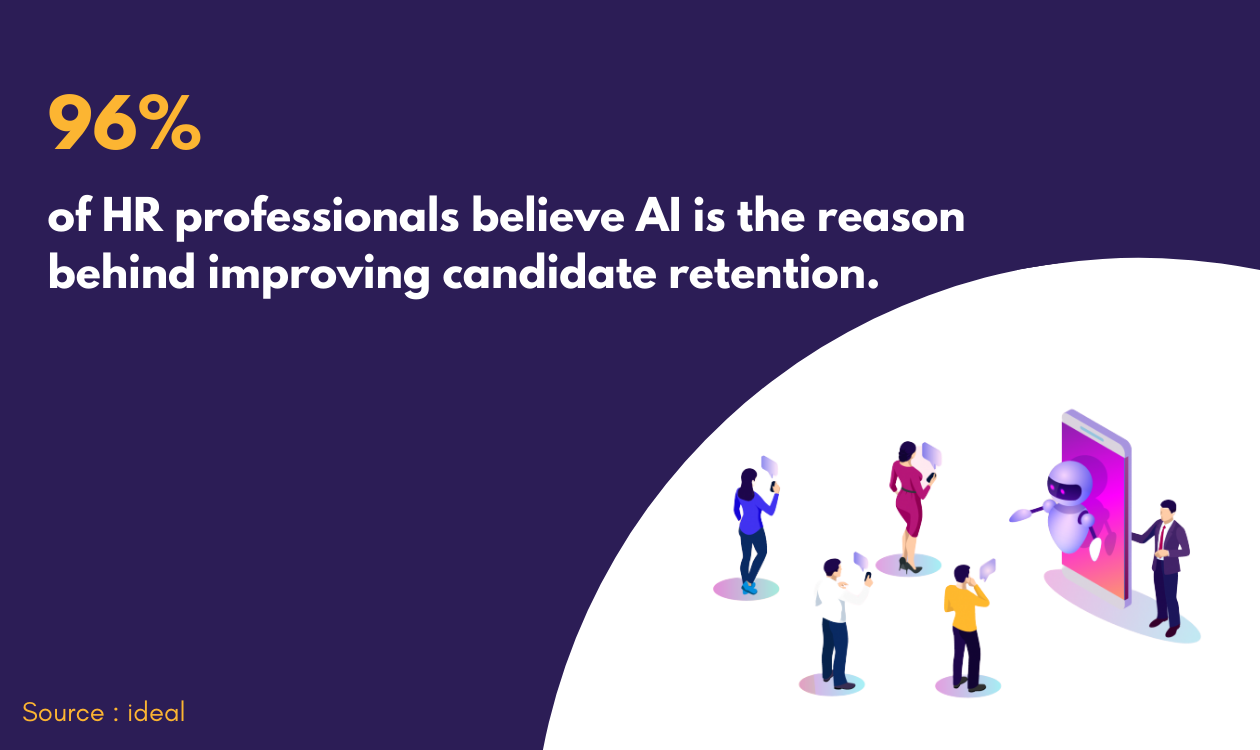 How does AI work in HR?
Artificial intelligence is a programmed and computerized means of replacing human activities. With AI, machines copy the human activities of problem-solving, completing tasks, and managing the data.
AI is an emerging category of HR tech that allows machines to complete repetitive and time-consuming tasks. AI helps in sourcing candidates from where they are found in abundance. It matches the job descriptions with the candidate specifications and screens out the best fits for your job needs. Furthermore, it helps in sending out automated yet customized job offers to the candidates. AI helps you in streamlining your recruitment, hiring, and candidate managing processes. Even when your employees leave, with the help of AI you can save their data and consider them in the future if you require their skills and expertise. According to a LinkedIn survey, AI is most helpful in sourcing candidates (58%), screening (56%), and nurturing them (55%).
What is candidate engagement?
Candidate engagement refers to connecting with the candidates even before they become your applicants. Candidate engagement occurs with constant and consistent communication with your potential applicants. Communication is the key to providing a quality candidate experience. Communication pulls candidates towards you and you rule over their minds.
However, candidate engagement is not a piece of cake. It involves a lot of hard work, analysis, and strategies to attract your ideal candidates. Again, it is not a one-time thing and the work does not end when your ideal candidates apply to your organization. It is a long process that does not end even after your employees leave your organization.
Candidate engagement during your recruitment process
Although candidate engagement is a vicious cycle, it is most important at the time of recruitment. Who would you cater to if you do not have the right recruitment pool? 94.9% of job seekers value it when they are taught how to follow up on their applications. You need to provide feedback or follow-up even if you do not hire some candidates at the moment. Chances are you might need them in the future. Hence, you need to engage with your candidates from the very beginning or they might never want to hear from you again because of a poor experience.
AI and Candidate engagement
AI has a huge role to play in candidate engagement and it is linked to AI changing the recruitment process. Here is how AI improves candidate engagement. Today's candidate engagement is a data-driven and systematically monitored process, unlike the traditional methods. Artificial intelligence finds, locks, and engages the ideal candidates and also provides you with data to analyze your performances and strategies. Next, we will learn in greater detail about how AI improves the recruitment process for you with candidate engagement.
Attracting the right candidates with AI
AI uses complex algorithms to understand your candidate specifications and then looks for the right matches at different platforms. When you have software like Applicant Tracking Systems installed different platforms are monitored for finding the best candidates. These candidates do not fall into your talent pool just by finding them at the right times. There is a lot at the backend that you need to look after for those candidates to choose you. Your candidates might have different preferences and needs. With AI, you can highlight the offerings that attract your ideal candidates the most. For example, if your candidate visits your website and they are more interested in work-life balance, your chatbots can lead them to your web page that talks about your work-life balance policies.
Candidate engagement with customized messages
Your AI forms emails and messages according to your candidate's interests. It is difficult to address each individual by their name if done manually. But, AI manages your messages and adds substance and sentiments to your emails. It speeds up the communication process before your competitors outspeed you. An example of how AI manages your emails is, suppose your candidates are passive job seekers. They are not actively looking for a job but might want to avail any opportunity that comes their way. With the help of artificial intelligence, you identify those candidates and send them emails to let them know about your existence and offerings. This might attract your potential candidates and if you are offering what they are looking for they would want to learn more about you. They might accept your cookies on your website through which you can learn more about their choices and further engage with them till you have convinced them that you are their ideal employer.
Job ads placement helps in candidate engagement
AI identifies and locates which platforms are most used by your candidates. AI then manages the job ad placement such as timings and their content to attract maximum candidates. Job ad content created with AI is platform-friendly that engages your candidates. 51% of candidates are more attracted to visually appealing job ads. But, again it depends on the platforms that which the ads are placed. For instance, a quiz on a Facebook post with appealing graphics convinces your audience to participate. Their participation can then consistently show your page and posts to them that might lead to a job application. Similarly, a discussion tweet on Twitter can attract candidates who are into debates and care for facts. Your AI-powered recruitment software is a game-changer that works in your best interests to recruit the top talents.
Chatbots and candidate engagement
Your webpage interface and chatbots play a vital role in candidate engagement. You may wonder how. Here is how, when your candidates find your ads and marketing strategies appealing they want to learn more about you and your website is the primary source for that. It is important to have a user-friendly mobile interface so the candidates can easily get to their desired page without any problem.
But, not all candidates have the time to dig deep into your website so they take the easy way out and consult your chatbots. These chatbots link the candidates to the pages they are looking for and answer their queries aligning with their past encounters with those candidates. The chatbot programming analyzes the requirements and brings up the best results to satisfy the candidate queries. This form of engagement makes a welcoming atmosphere on your career site and candidates feel satisfied with the answers. 
Did you know? In 2019 chatbots handled 68.9% of chats from start to end. Moreover, live chats with your agents on your web pages further enhance the candidate experience and they realize that you care, which further strengthens your position.
Candidate engagement on third-party platforms
Candidate engagement on third-party platforms is a natural and true image of yours in the minds of the candidates. They discuss their experiences with you on discussion forums like Glassdoor where you can identify your positive and negative performance factors and improve. With the help of artificial intelligence, you can find any discussions that involve you and engage with feedback or helpful comments that satisfy the candidates. For instance, on Glassdoor, if candidates discuss how poor their experience was with no communication from your side you can get back to those candidates with solutions and compensate for your poor performance. By providing a good experience to them you can engage them with your organization in the future and make up for your mistakes.
Benefits of candidate engagement
Candidate engagement is important so your candidates do not feel isolated in your organization. Recruitment is the foremost engagement gateway that can attract or detract the candidates forever. If provided positive candidate experience with proper engagement you can gain some benefits such as the following.
1) A positive word of mouth leads to a diversified talent pool.
2) Overcoming misconceptions and rumors about your organization.
3) Building a positive brand image.
4) No shortages of talents even in times of labor crisis.
5) Improved talent acquisition.
6) Lesser turnover and higher retention rate.
These benefits are just to name a few but many other benefits are interconnected to them.
Conclusion
Artificial intelligence is a powerful tool of today's time that helps you in candidate engagement and provides an improved candidate experience. Just like engaging customers is transactional, attracting the candidates is relational. Building a strong rapport can gain you a competitive advantage in terms of a more loyal and motivated workforce. Artificial Intelligence-powered recruitment software gets the jobs done and automates your manual processes that further improve your organization's performance. Candidate engagement is a primary source of gaining the candidate's interest in your organization and is a way of branding yourself. A positive image and experience can go a long way and bring you returns in unexpected ways.