There is no secret that the current scenario compelled every sector to switch towards a virtual solution for conference and meeting. And, this virtual solution is not for a few months; it's here to stay. Due to the dilation of COVID-19, employees continue to do work from home. Here the virtual solution is absolutely adapted for collaboration and communication. Presently, above 40% of businesses started taking interviews through the digitized platform i.e. video conference software. In this situation where employees are working separately, virtual meeting software helps them to share information, experience, and data in real-time.
There are many virtual meeting software existing at the present moment? We can't tag any software as the best or perfect software, but yes, we can perform a comparison amongst various virtual meeting software to find out the better one.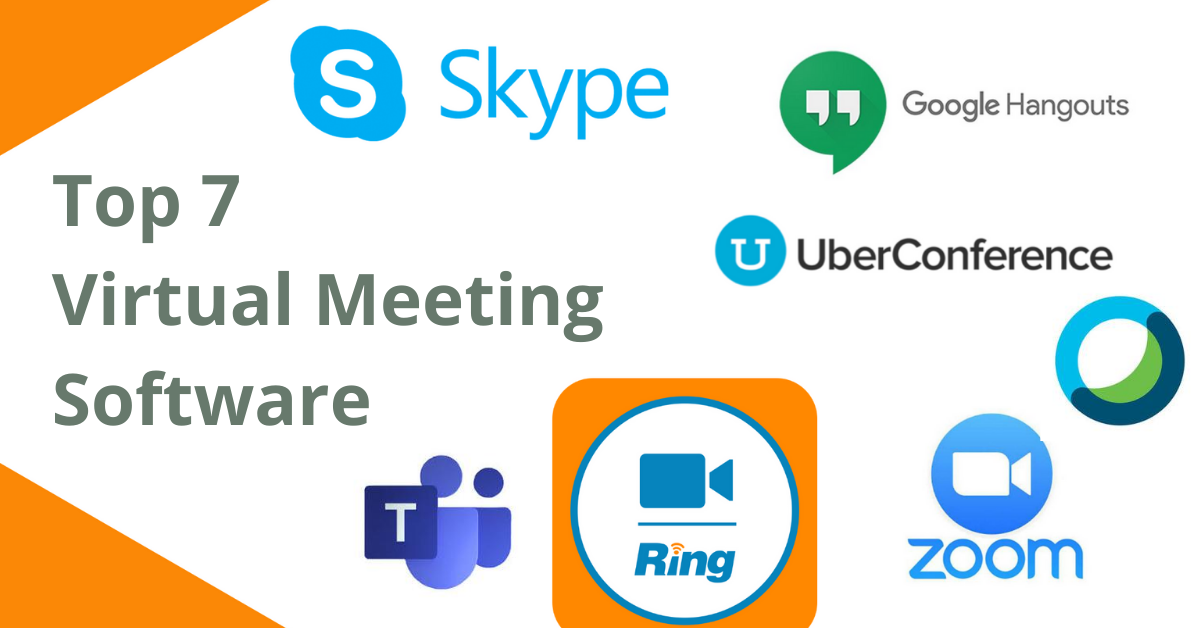 In this comparison, we will focus on the pros and cons of the software.
1. Zoom
Zoom is primarily known as a web conferencing tool. It is a cloud-based virtual meeting software solution that enables organizations, firms, companies, education sectors to perform web meetings and collaboration in real-time. They start with a free option that allows 100 participants per meeting. It includes functionalities such as HD video and audio, enterprise cloud phone system, and chat serviceability.
Best For- Brief joint meeting that needed a robust screen sharing potential
Pros
Share multifunctions screen

Multi calendar integration

Annotation tool

720p HD video

Continuous improvement in security

Unlimited meetings

Scalable platform

The excellent webinar reporting feature
Cons
Chat could be a little more advance

Security issues

Customer support issues due to rapid growth

Expensive

To many plans option
Click Here to visit Zoom Website
2. Google Hangout Meet
Google Hangout allows small to large businesses to make communication and collaboration possible via chat, message, and video call. If you want to use Google Hangout Meet you need a subscription of existing G Suit. It includes features such as offline message and video sharing, device synchronization, notification, availability indicators.
Best For- Existing G Suite users that want a reliable web conference tool without an additional cost.
Pros
Free of cost for G Suite users

HD Video

Documentation sharing

It is seamlessly integrated with all Google products

Emojis and GIFs

Private chat
Cons
Need the subscription of G Suit plan

They should allow connecting more than 100 users

Does not support desktop application

The Max limit of a single conference is only 40 minutes (free plan)
Click Here to visit Google Hangout Website
3. UberConference
UberConference is a web conference software developed by VoIP provider Dialpad. This video conference solution helps every business to share information through messages, videos, and voice. Joining the video conference in the UberConference tool is quite easy as compared to the other applications. It includes features such as call control, document sharing, custom hold music, international call, call recording.
Best For- Companies that are searching for browser-based solutions and have less than 10 participants in a single conference.
Pros
HD audio and video

Screen Sharing

High security

Call recording

No downloads required
Cons
Allow only 10 participants in a single conference for free conference

45 minutes is a maximum time the limit for a free user

The PIN is required for joining the conference until don't become a paid user

It is supported only in web-based and android devices.
Click Here to visit UberConference Website
4. Skype
Skype is one of the most used video conference software with over a million users. Free users are able to host the group video call with a maximum of 25 participants. Skype includes different features such as private chatting, audio, and HD video calling call recording and live subtitles, screen sharing, customize participants' views, PowerPoint presentations.
Best For- Existing office 365 subscribers or the company who is searching for widely I used robust video conference software.
Pros
10 language voice translation

For text translate 60 plus language supported

Secure and confidential video conference

The conference is for unlimited minutes

Easy setup

25 participants are the maximum limit of group conference
Cons
High bandwidth required

In the year 2021, Skype for business is retiring

The 250-person conference is locked for those who subscribe to Office 365
Click Here to visit Skype Website
5. RingCentral Meeting
RingCentral is a cloud-based software that provides video as well as audio conferences. It is an integrated mobile-based phone system that helps users to connect through a variety of devices namely cell phone, tablet, desktop, smartphone. It also has integration with Salesforce CRM, Box, DropBox, and Google Doc. RingCentral's core feature includes conferencing, auto-recording, unlimited calls for locals, internet fax, and internationals.
Best For- For the users that want to connect the conference through landline on their desks.
Pros
Screen sharing capability

HD video and audio

Private and group chat

Device capability desktop, landline, and PC

Call recording and forwarding
Cons
40 minutes maximum limit of a single conference

Uncutamzie conference call greeting message
Click Here to visit RingCentral Website
6. Cisco WebEx
This is one of the popular software that permits users to connect virtually through HD video and audio. This product is developed by a global technology leader Cisco. WebEx helps users to communicate and collaborate online from different parts of the world. It is cloud-based software, hence, users can join the meeting through any device such as a desktop browser, mobile, tablets, etc. It provides many features, namely application sharing, screen sharing, real chat, record and playback ability, two-way audio and video conference, etc.
Best For- Designed for businesses of all sizes. Perfect for meeting requirement for around 100 people who prefers HD solutions.
Pros :
Screen sharing ability

Recording capability

Has the ability to control the audio of the audience

Integration to Outlook and office 365

HD video

Share application, document, presentation, and desktop of PC in real-time.

Unlimited meeting
Cons :
One login per license

Phone support not available for free plan users

A free trial is only for 14 days

Not HD audio
Click Here to visit the Cisco WebEx Website
7. Microsoft Team
Microsoft Team is the combination of video conference and team collaboration tool. It allows Office 365 users to conduct calls and share files through SharePoint. It fully integrates with all services of Office 365. It is a cloud-based software that offers many features such as channels and team, chat function, document storage, online video conference, screen sharing, audio conference, etc.
Better For- The users who subscribed to Office 365.
Pros :
Screen sharing feature

No additional cost for Office 365 users

File search, backup

Personal chat

Help full bot

Document storage in SharePoint

Calendar and outlook integration

Voice mail

Channels and groups

The maximum limit for the group the conference is 250 people at a time
Cons :
Useful only for the user of Office 365

A limited number of channels

Free plan user can not record the meeting
Click Here to visit Microsoft Team Website
Every virtual meeting software is developed with some common features that should be considered while comparing the various video conference tools. The common features are Screen sharing, text chat, call recording, and forwarding, file shortage, and mobile app. Choose the one that matches your needs and requirements.
Choosing better virtual meeting software has become essential for businesses, especially during this pandemic that is stopping employees from being together physically.