Working from home has become a new trend and also the normal way to do work. Many people are very excited to work from home who do not follow this trend yet.
Every person has a unique personality, choices, likes, and dislikes. So we can't judge them through their working environment. Many people are more productive when they do work from home or remotely while others are just disasters. Many companies search for employees who can do work from home just to save their extra expenses like office space, furniture, electricity, food, internet, other overheads, etc.
It is not important where we are working from home or office, but we must be working. All employees should experience both environments i.e work from home and work in the office so they can get a clear picture of a suitable working environment.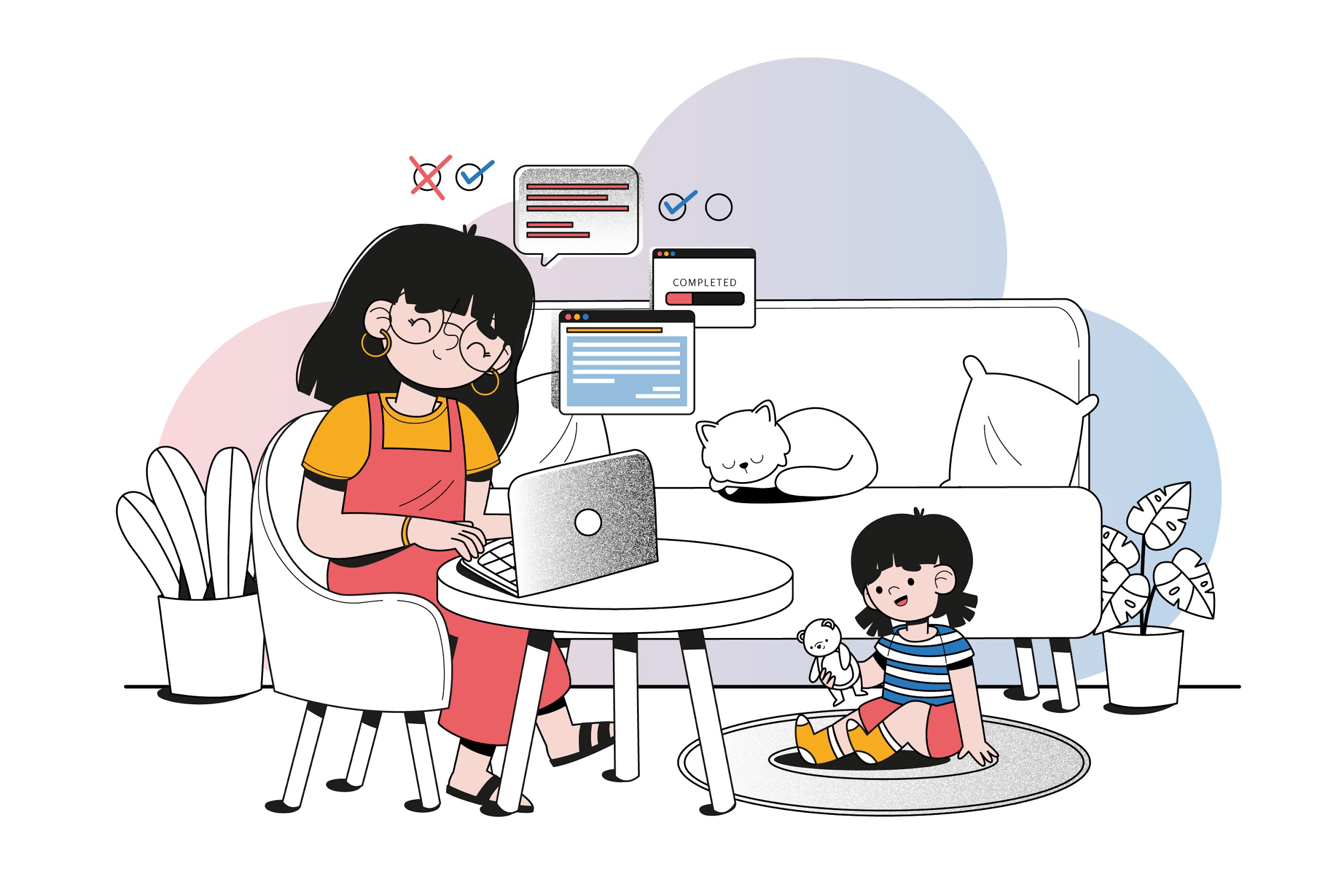 As we know nowadays people mostly prefer to work from home because almost everyone likes to follow trendy things and it's human nature. But every coin has two sides as the same Working from home have its own advantages and disadvantage
Let's take a look at the pros and cons of the work from home…….
Advantages
Flexible Time Schedule:- When you are working from home you do not need to stress about working hours or schedules. You can fix your working schedule according to your comfort. If you are 'Early Bird' then you can start doing work in the morning but if you are 'Night Owl' then you can do work till late at night, it all depends on you.
No Need To Get Up And Dress Up:- As you are at your house you don't need to hurry up. You don't need to get upon a time for dressing yourself, no need to pack your bag without forgetting any important things. You can work anywhere in your home, in your comfortable clothes and everything you need is easily available to you.
Less Traffic, Less Pollution: - As more people work from there will be less cars on the road so less traffic during office hours. With less cars being driven, less energy usage and pollution.
Communication Skills Improve:- You are not around people, you are working all alone so whenever you need to discuss anything or inform some important points to your boss or colleagues you always use your phone which makes your communication skills better. Because of work from home, your verbal communication becomes increased and directly creates a good impact on your communication skills.
Less Disturbance:- 'No crowds No talks'. There is less distraction from work due to less crowds. There are no your co-worker's talks, no their opinion for you, no their bullies, no need to attend meetings, and no negative vibes. You can concentrate on your work. Like the office, no other activities going on all around so get no or less disturbance and can focus more.
More Time To Loved Ones:- Through work from home, you can make a balance between your personal life and professional life. Many people give their most time to their work and forget about their family and friends. This new trend of work from home allows them to spend their time with loved ones.
Disadvantages
Hard To Build Relations:- It is really hard to build trust and develop a relationship with co-workers because they are not working together physically. For building a great relationship with your co-worker you should interact with them face-to-face.
Lack Of Motivation:- Working from home is not that easy, no one looks at you and understands you. You should always motivate yourself because no one is going to come to your house just to motivate you. It is tough to discipline and motivate yourself all day to make your work done.
Lack Of Office Environment:- No availability of office equipment when you work from home is proven in one survey. If you are working for the company that used special equipment for work, it is difficult to replicate this environment at home, which takes a little more time for setup. Connectivity to office hardware/network and security concerns will be there.
Communication Gap:- There are maybe communication gaps with other co-workers or bosses because all conversation has taken place via phone or email where the real expression or emotions are not visible, speaking tone can not guess which creates misunderstanding between you and your co-workers. Monitoring tools and time will be required.
Divided Focus:- When you live with your family or you have a joint family, work from home is not a trouble-free task. Each family member has their own activities for a day and that is performing around you. So you are not able to give all focus to your work because your focus is divided due to people around you doing fully opposite work than your work. While in the office everyone is performing the same task so your focus could not divide.
Work from home is still not adopted by many companies, they focus on the disadvantages of it. Because companies don't want to take any risk which affects their companies productivity.
Yes, work from home has drawbacks but on the other side, it also has many benefits. It is all upon the employees in which environment they can do more focus toward work and become an asset for companies.