Are you seeking the best eCommerce platform? This is not an easy decision as it will have a long-term effect on your business. The choice you want to make becomes a challenge when you come across various eCommerce platforms. Similar to other industries, there is also huge competition amongst the eCommerce platforms. Globally, there are 370 eCommerce platforms available. Therefore, it's difficult for a person to go through all the eCommerce software and then make the best decision.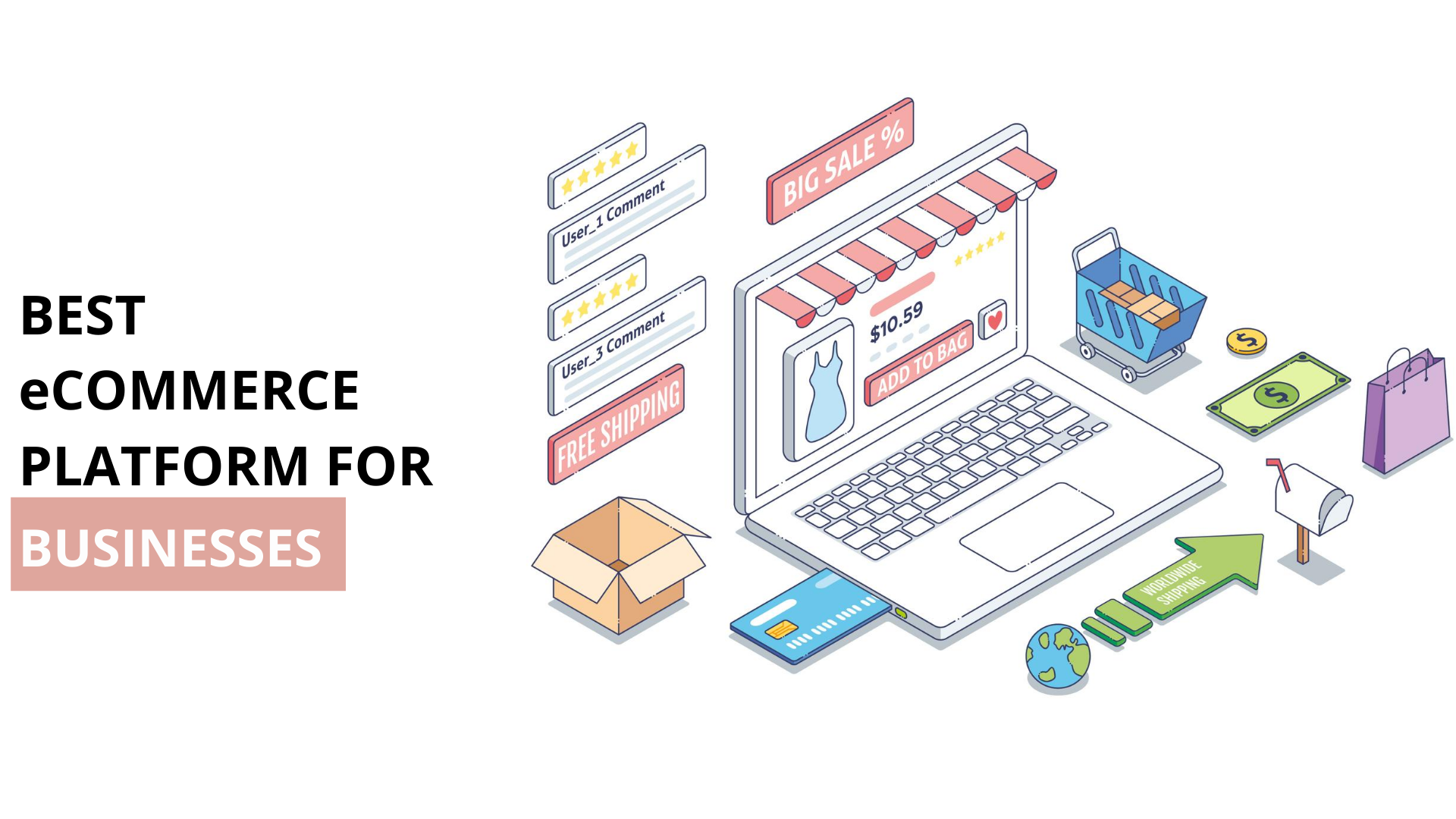 We are here with the list of some eCommerce Software that helps you to understand and differentiate between the eCommerce Platforms.
Shopify is one of the leading eCommerce software that started in 2004 and used by more than 1 million businesses across 170 countries. It is one of the most exceptional eCommerce software for startups, small and medium scale businesses. After a simple setup, you can upgrade your store with a third-party extension. Moreover, you can also change the shop code.
Summary :                           
More accelerated load

Provides subscription-based service

Uncomplicated setup process

Product management feature

Get selling apps available just in one click

Various payment gateway

Unlimited product checklist

24 hours of chat support and phone support

Custom domain

Thousands of themes available

Mobile friendly as well as can edit in HTML and CSS directly

Thousand of Shopify apps are available

Weak Points :
Feeble SEO

Uncustomizable Checkout

Apps become costly
BigCommerce was well-founded by Eddie Machaalani and Mitchell Harper in 2009. Around $25 billion worth sales across the 120 countries. The price of it is higher than the other competitive eCommerce software. It is the perfect solution for SMEs that launch the product online. It is one of the online stores that have the ability to grow your business rapidly.

Summary :                           
Scalable and flexible

Multi-currency sales

Strong SEO performance

Standalone software along with subscription-based services

Order management feature(including shipping charges)

Customer management by customer group

Some themes are available

Mobile optimized

Discount and coupon cards only

5000 extensions are available
Weak Points :
Inconsistent loading speed

Pay more for high volume store

No one-click selling

Weak support
WooCommerece is an open-source WordPress shopping card well-developed by WordPress. It is one of the popular eCommerce options. WooCommerce is the best choice for small businesses that already own websites on WordPress.

Summary :                           
Best software for SEO

One-click selling is available

Standalone software

Order management feature

Various payment gate

Product management feature

Customer management via the third party

More than a thousand themes available

1000+ extensions available

Bandwidth depends on the host

Mobile friendly

Geo-location support
Weak Points :
Expensive hosting

Complex troubleshooting

Required lot of extensions

No telephonic and email support
Magento was released in the year 2009, but later in the year 2015, it was replaced by Magento 2.0. It is again one of the best open-source eCommerce software for medium and large-scale businesses and delivers the high performance that is needed by companies. It is a robust platform but requires a longer development time. It is an expensive software compared to the other eCommerce software.
Summary :                           
Strong SEO

Robust and high performance

One-click selling apps available

Subscription-based services

Customizable

Catalog management

Global selling

Basic customer management

More than 100 professional themes are available

Unlimited bandwidth

Mobile friendly

Integrated checkout, payment, and shipping
Weak Points :
Expensive themes

Slow down easily

The requirement of development skills

No live chatting, email, and phone support
Wix is the cloud-based eCommerce software that allows users to create their own professional website and manage online. Wix is preferable for small-scale businesses that do not have any dedicated web designer and developer. It offers full freedom from start to end. It's easy to use the site builder.
Summary :                           
Simple to use and setup

Subscription-based services

Free custom domain

More 500 professional themes

Hunder of Wix apps

Live chat support(also includes email and phone support)

Analyst available

Inventory management

Order management

Different payment gateway available

Basic customer management

Unlimited bandwidth
Weak Points :
Does not scale and dedicate like other eCommerce software

No international option

Poor SEO

HTTPS issues

Shortage of marketing features and integration
Tribe is a powerful free eCommerce platform developed by the agile team of Yo!Kart using the open-source Laravel framework. It enables retailers and small business owners to build and launch their eCommerce store at ZERO cost.
The software comes with advanced eCommerce features such as POS, Drag & Drop CMS editor, multiple payment gateways, analytical dashboard, etc. Unlike other free eCommerce platforms, it is free for a lifetime which means zero recurring & transaction fees. Retailers can sell unlimited products on their online stores to the global audience as it has multi-lingual and multi-currency features.
Since The tribe is a FREE eCommerce platform, you have to pay only for customizations and migration. The support is charged only after you exhaust the free support hours.
Summary:
Open-source Laravel Ecommerce Platform

Source Code Ownership

Free Set-up & Zero Transaction Fees

Multilingual & Multi-currency Functionality

Shipping & Tax Management

Multiple Payment Options

Mobile Ready Solution

POS and other key features

Drag & Drop CMS Builder

Progressive UI Design

Free Demo (Admin, Buyer)

Search Engine Friendly

API Integrations

Fully Customizable & Scalable
Weak Points:
Mobile apps are yet to be launched

No themes available

Addons are not available 
Overall Rating
The overall rating(out of 5) of each eCommerce software is given below :
Shopify: 4.1
BigCommerce: 4.3
WooCommerece: 3.8
Magento: 3.2
Wix eCommerce: 3.2
Tribe: 3.2
A comparison between various eCommerce software is quite confusing and tough. A small difference in features and performance can create a massive impact on the business. There are many more eCommerce software platforms available for your business. It is wise to do research in-depth before coming to a conclusion.