Employee compensation is the benefit you provide your employees for their hard work and efforts. To keep them motivated, you should have an effective employee compensation plan. 75% of employees in a survey reported that they are more likely to stay with an organization that provides better compensation programs. As an employer, you need to plan for employee compensation according to the interests of your employees. In this blog, you will find the guide to employee compensation plans you can use in your organization for better results. If you don't want to skip any important details, read till the end.
What is Employee Compensation?
Before diving into this blog, you need to know what employee compensation is. Employee compensation is a set of benefits and rewards you give to your employees according to their work performances. There are two main types of compensation, i.e. financial and non-financial compensation. Financial compensation includes salaries, bonuses, and commissions. On the other hand, non-financial employee compensation has some non-cash benefits that could satisfy your employees. These factors include personal development, career advancement, and recognition. Employee compensation of any type helps your employees achieve their targets with satisfaction. With an employee compensation plan, your employees hope to receive rewards at the end of their accomplishments.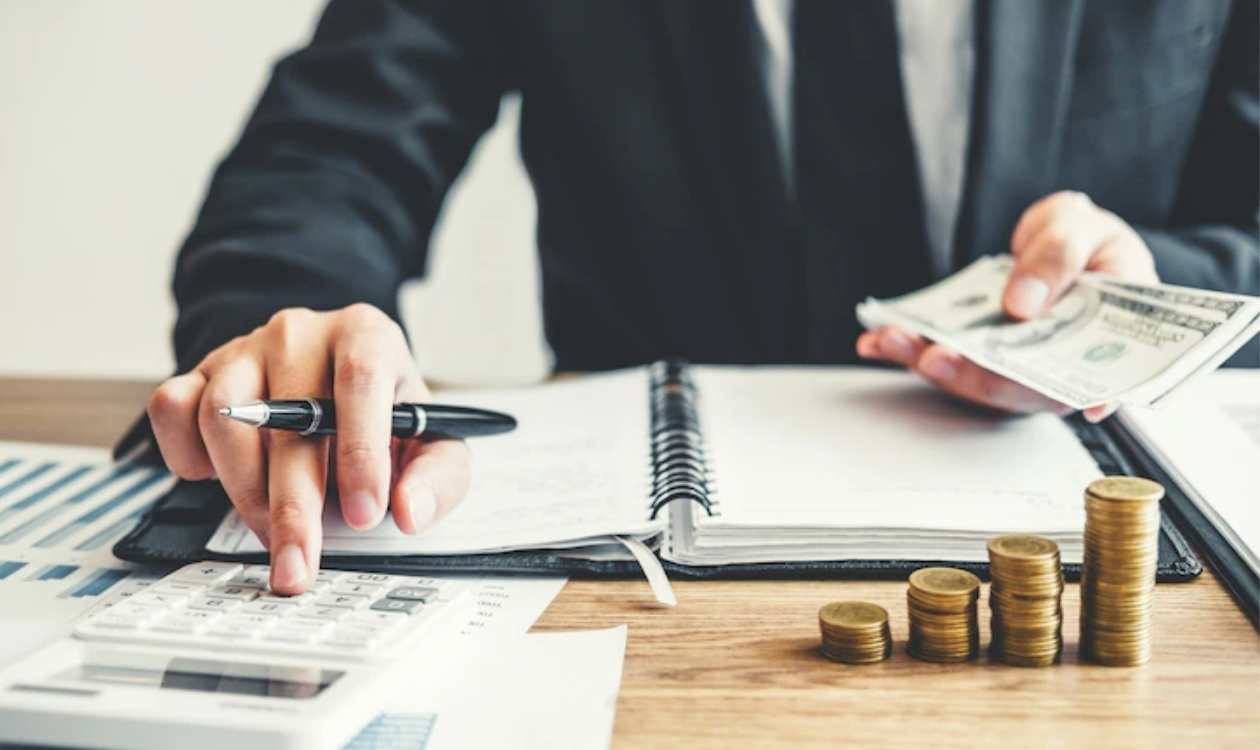 Components of an Effective Employee Compensation Plan
Next, we will tell you about some of the components of an effective compensation plan. You will know how to create an effective compensation plan in your capacity and the things to include and exclude.
1. Basic Salary
The basic salary is the minimum criteria for your candidates when choosing an organization for work. A basic salary is not provided only when the employee performs well. Instead, it is the compensation employees receive in exchange for their work hours. At the time of the interview, you negotiate the base pay with your candidates, and when both agree to a specific amount, the base pay is fixed. It is a small percentage of the overall compensation package that can include healthcare and education allowances for your employees' families. Ensure that this salary is set according to the minimum salary requirement imposed by the government, or you might end up with legal consequences. 
2. Bonuses
When your employees perform well in your organization, you give them bonuses. You also provide bonuses when your organization is profitable. To be precise, a premium is the employee's share in your profitability because they helped you achieve your targets with their hard work. There are different employee bonuses, including holidays, profit-sharing uses, and gifts. 
A bonus is calculated by multiplying the total amount earned with the bonus percentage. It means if you are providing a premium on salary, then the bonus percentage of compensation will be given to your employees. E.g. the total pay is $10000, and the bonus percentage is 2%, so your employees receive a bonus of $200.
When employees look forward to the bonuses, they perform their best because salaries are fixed, and rewards can act as their extra amounts. In the US, 33% of employers provide year-end bonuses to their employees. Bonuses motivate employees to achieve complex tasks and their best efforts to achieve individual or organizational goals. 
3. Commission
This mainly works in the sales field. Along with a fixed salary, employees receive a commission for every sale they make. The commission works both in the sales of products or services. For example, as an estate agent, when you sell a house, you receive a specific percentage for that sale from the house owners. This motivates your workers to achieve more in less amount because they receive immediate earnings on every sale they make. A commission-based bonus is a great way to increase sales because employees will perform their best to earn as much as possible.
4. Health Benefits
With no direct monetary value, health benefits can prove to be reasonable non-financial employee compensation. Sometimes, the basic salary is not enough to manage the health expenses. When employers like you cover the health expenses for the employees and their families, they feel protected. Paying your employees slightly less compared to the market is fine, too, then. Employees who prefer an excellent health package are among the 83% of employees who look for health allowances when accepting a job offer.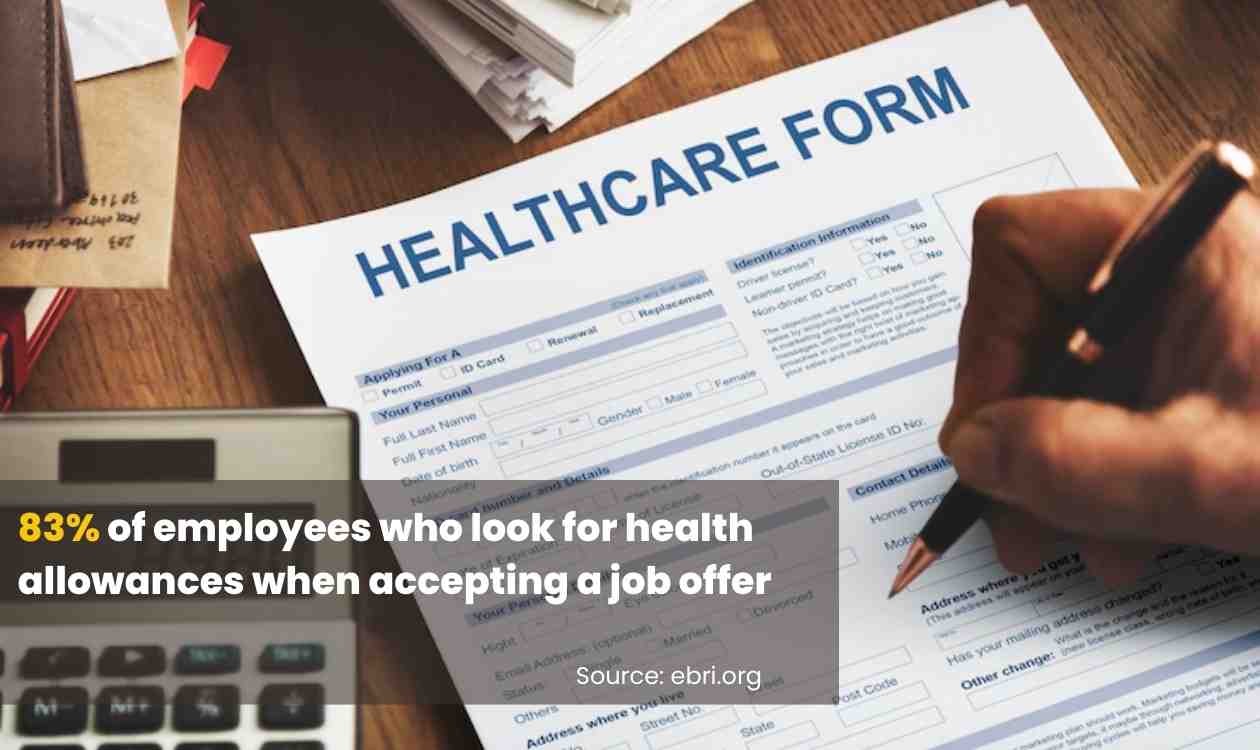 4. Flexible work Timings
Who does not like flexibility? Even if you cannot pay your employees high remuneration, provide them flexibility. The flexibility could be in terms of work timings or the place of work. You can allow your employees to leave when they accomplish their targets or work from home. This way, they will focus on attaining their targets in less time than wasting time to get through the day. Moreover, if you allow your employees to work from home, there will be no reason for them to be absent, and your work will be unaffected. Flexibility is one of the many non-monetary employee compensations that can significantly impact your employee satisfaction.
5. Vacations
Everyone needs a break from work. If you could allow your employees to travel after a hectic year, they will be very grateful to you. It would be even better if you finance their vacations. Being eager to go on paid holidays, your employees will do their best just to run into the fresh air and enjoy some quality time with their families. This will also compensate your employees for work-life balances, and they would not want to leave you if you are accommodating towards their balanced lives.
How Employee Compensation is Calculated? 
Employee compensation is the sum of all the components in their compensation package. Some compensation components include a plan allowing employees vacations, bonuses, paid leaves, and health and education insurance. Now, calculate the total expense on all these allowances. The resulting value is your full compensation provided to all employees. According to the US Bureau of Statistics, employers compensate $40.35 per hour for each employee.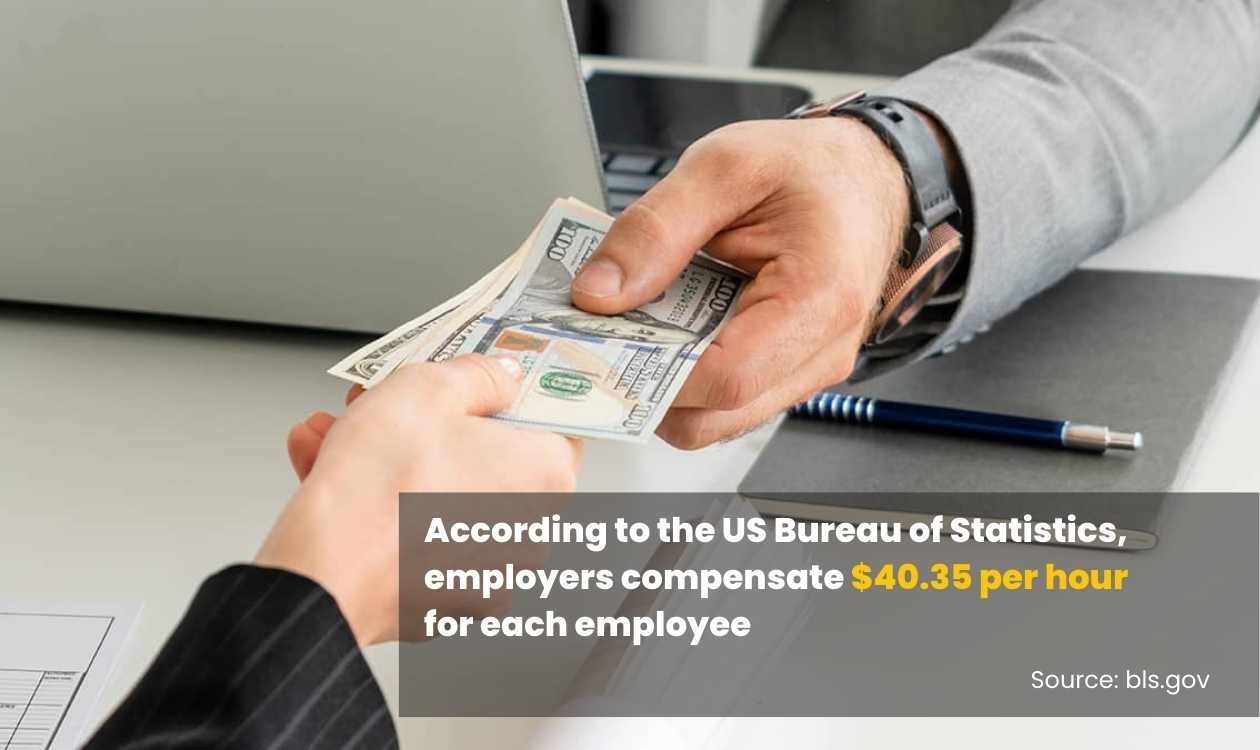 Strategy for an Effective Employee Compensation Plan 
Your strategy for an effective compensation plan should be excellent research. You cannot just provide your employees with what your competitors contribute to their well-being. Each organization has its strategy. It would help if you studied your organizational values, goals, policies, and culture first and then formed an employee compensation plan.  
Here is an example of a compensation strategy. Suppose your competitors carry their business virtually, so they allow a hybrid work setting. However, you have a physical organization and must communicate with your customers face-to-face. In this case, you should provide them incentives like free food in the workplace because the work-from-home policy will not work for you. 
Advantages of a Fair Employee Compensation Plan 
A compensation plan that is non-discriminatory and fair is what makes an employer credible. There are many advantages of an appropriate compensation plan.  
1. Employee Satisfaction
This has a significant role to play in growing your organization. A fair compensation plan is the strongest motivator for employees to achieve their goals. When your employees know you will compensate them fairly, they will be satisfied with your organization and its system. Satisfaction depends on many factors such as good and healthy work culture, fair insurance policies, care from the employers, etc. Achieving employee satisfaction not only improves employee productivity but also helps in building your brand image with positive word-of-mouth through your employees.
2. Increased Efforts of Employees
When employee compensation depends on the performance, your employees put a cent of their efforts into achieving their targets. For instance, if you share your profits with your employees as a bonus, you reach your annual sales target of, let us say, 20 million. It works like a rat wheel with a carrot hung on it. The difference is it is a ladder with the carrot on top. 
3. Improves Employer Credibility
A fair compensation plan improves your credibility as an employer because you are appropriate at judging your employees' efforts and providing the incentives they deserve. Make sure to have a transparent compensation plan, and do not look for ways to deduct their amounts. For instance, a report on salary transparency concluded that 1 in 3 employees believe they are not paid fairly compared to their colleagues in the same roles. Having compensation transparency ensures your honesty as an employer.
Conclusion 
To create an effective compensation plan, you must first be employee-centric and study their needs and interests. You cannot provide them with compensations that they do not require. For instance, your low-paid employees would be more interested in financial compensation than achieving a company-financed degree. Many components could be a part of your compensation plans, such as bonuses, commissions, flexible work timing, health insurance, etc. You need to form strategies aligned with your organizational goals and policies to avoid deviating from your mission and vision. A fair compensation plan has many benefits that you can achieve, such as your employer credibility, employee satisfaction, and improved efforts by your employees. You can always calculate your employee compensation expenses and set them according to your budgets to benefit yourself and your employees.