Every company has several types of departments, but finance,  accounting, and HR departments are the backbones of the businesses. They have an immense effect on the overall business. The accounting department has a huge responsibility for business finances and even for a small mistake a company can incur losses. Therefore, the company's owners and leaders should improve their financial and accounting operations.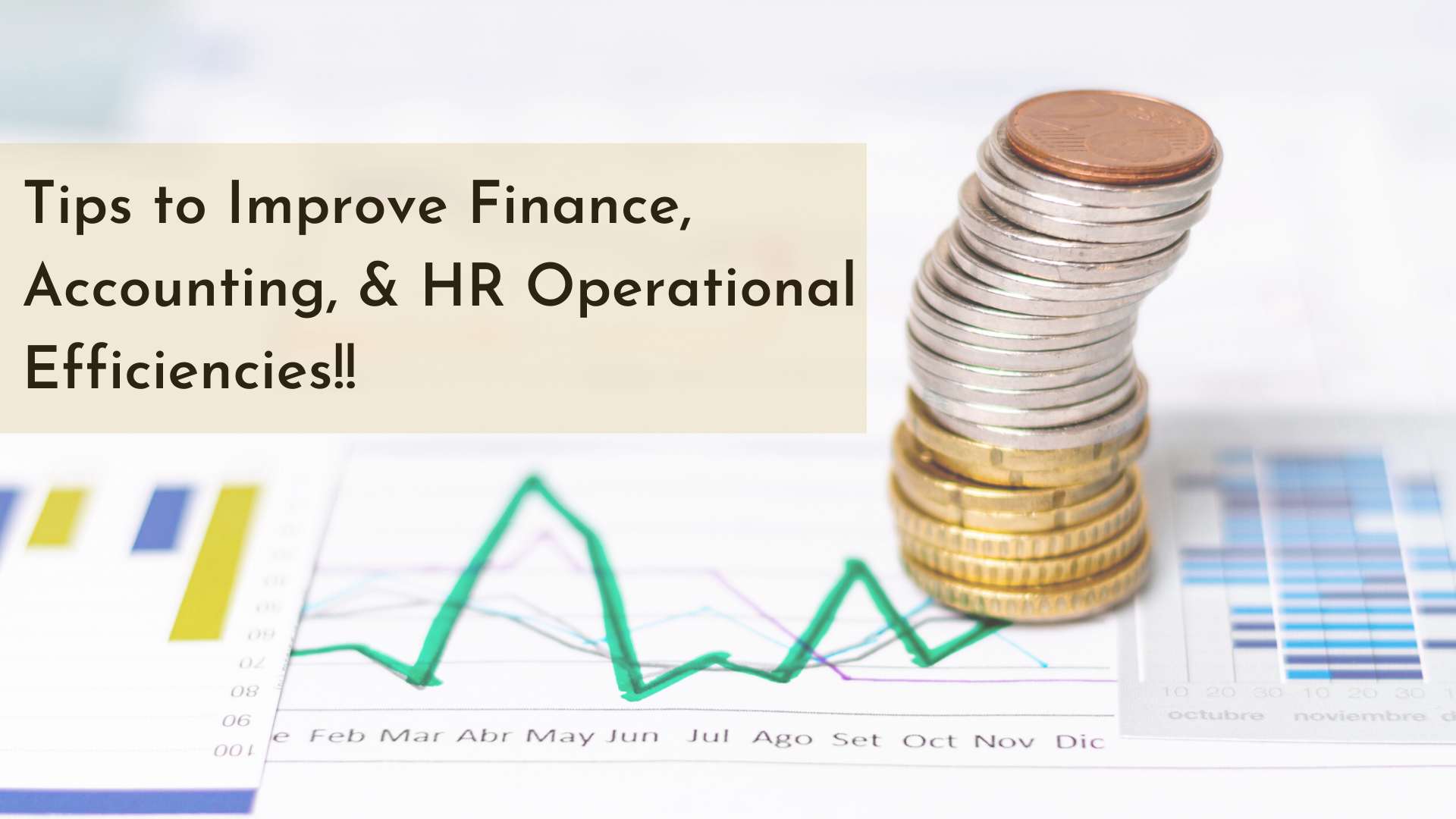 Here are some points through which companies will be able to improve finance, accounting, and HR operations efficiencies.
Improve Finance And Accounting Operations Efficiencies
Continuous Training To The Accounting Staff:- Accounting team or the employees who manage all the works finance and accounting should be well trained. As we know, a small misstep by employees means a heavy loss for the business. Thus, ensure that employees of the accounting department must be proficient and also be adaptable to all the procedures of finance and the related software used by the company. It is fundamental that companies should provide proper training to every employee so that the chance of blunders are minimized and operation will be smooth. You can provide training in different ways like seminars, one-on-one training, etc.

Digitize Strategies:- Pay attention to every process of the finance and accounting department and figure out which process or aspect of the business could be digitized. Digitized solutions improve the efficiency of the operations due to its accurate and speedy feature. Discover the methods which decelerate the work of employees and make an aim that maximum processes should be digitized.  Tasks that are done manually are the underlying reason for slowing down productivity. Many processes could be digitized such as modernize invoice payment, stand-alone budgeting tool, and better manage inventory, etc.

Increase Collaboration Between Departments:- Finance and accounting departments lean on other departments of the business. They can't function alone. They have to depend on every section, for their financial data. The data must be obtained on time from every department so that the finance and accounting department can examine and verify the accuracy of data.  Hence, it is required that the collaboration between finance and other departments should be increased. The financial manager should ensure that data is received on time by taking several meetings with other department managers. And if still there are delays in sharing the data then find out some solutions for it. Increased collaboration amongst the departments will increase the efficiency of the operations.

Adopt Batch Process:- Batch processes means processing the transactions in a group or batch. Some transactions have multiple effects on various accounts but some accounts do not need to be updated in real-time. This task takes time when it multiplies by hundreds of transactions. Batch processing for non-critical accounts through eliminating unnecessary activity at a critical point will improve operational efficiency.
Improve HR Operations Efficiencies
Employee recruiting and hiring:- Once a new employee requirement is opened up.  Look for talent inside the company.  For a low number of requirements and short duration of need, contract or temp hiring should be considered.  It will make sense to engage staffing companies to help out based on their experience.
Employee Onboarding:- Employment and employee engagement are always starting from day one. Onboarding software helps employees to understand the overall business process and activities, hence software makes it easy for employees. The new hire employees are able to speed up and start contributing to work sooner.
Time And Attendance:- How employees are utilizing their time is more important instead of tracking their timesheets. If companies really want to increase HR efficiency then they have to focus on advanced workforce management tools. Many software such as absence tracking, vacation management, etc tools distinguishes state-of-the-industry software from past-generation systems.
Performance Management:- Companies avoid the formal review system as it is not being useful. Through performance review software, companies can re-energize the process. The expertly designed performance review increases employee confidence and engagement with works. The software allows stakeholders to collaborate while the manager can track the process and make a plan.
Each process of finance, accounting, and HR should be monitored closely. They manage sensitive data of all departments and if processed incorrectly then this may lead to a huge loss. Hence, your financial, accounting, and HR operational efficiency can be improved through automation, collaboration, and batch processing.