It is undeniable that the final step of the hiring process will always be in-person interviews. But, this is restricted after the outbreak of COVID-19. Due to this virtual interview is into the limelight. The popularity of virtual interviews touched the roof during the pandemic period and, today almost every organization's first preference is Virtual Interviews as it's unsafe to conduct an in-person interview in this circumstance.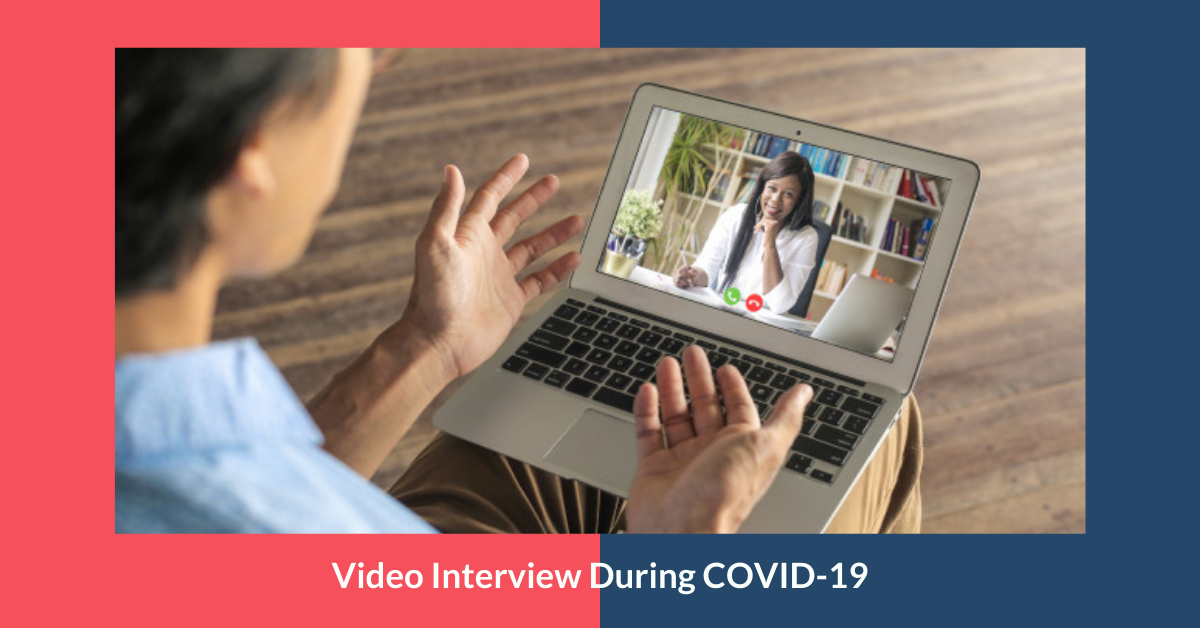 Virtual interviews help companies to avoid being suffered during the pandemic. Moreover, it makes the hiring process more efficient and effective.
The virtual interview is the way of conducting an interview from a distance using software such as Video calling software. Also, sometimes the interview takes place through a cell phone using video calling apps like Whatsapp, Zoom, or Skype. According to the current scenario, we can assume that the trend of the virtual interview is here to stay beyond the year 2020.
Why Should You Consider Virtual Interviews During COVID-19?
We all are conscious of the existing conditions, and for safety, people are following the social distancing policy. Virtual interviews are doing exactly the same, following social distancing policy. Social distancing has become supremacy to prevent the spread of COVID-19. And, according to an expert, at least 6 feet distance from an individual minimizes the possibility of getting infected.
This seems difficult in an in-person interview. By conducting a virtual interview, businesses can contribute to diminish the dispersion of COVID-19 and help the candidate to maintain safety.
Apart from COVID-19, virtual interviews help companies to connect with candidates instantly and proceed further only with highly qualified and deserving candidates. It makes the hiring process more optimized and reduces cost-per-hire. Employers should not choose the virtual interview for their benefits but also for the benefit of the company and candidates.
Interview Expectation During COVID-19
According to current data obtained, out 62% of hiring managers who had conducted interviews during the pandemic, 88% of managers agreed that they took interviews virtually while 12% of hiring managers followed the traditional method of hiring i.e, in-person interview.
80% of hiring managers state virtual interviews as a positive experience and will continue to conduct it. For software, Zoom (72%) is the most commonly used video conference software for interviews followed by Skype (43%) and Google Hangouts (27%).
Pros And Cons Of Virtual Interview
Most Common Benefits Of Virtual Interview
Provide flexibility = 64.3%

Protect employers and candidate = 58.9%

Saves money = 55%

Minimize the hiring time = 43.4%

Access communication skill = 41.1%

Extend the candidate pool = 39.5%

Amplify the chance of hiring the top talent = 29.5%
Most Common Drawbacks Of Virtual Interview
Network issue = 59.7%

Webcam issue = 55%

Audio issue = 51.2%

Can't fully assess the candidate = 50.4%

Background distraction = 37.2%

Visual element = 31%
Aggregates of Americans state that due to COVID-19 they either lost their job or are working at half salary. But the same employees have already attended the virtual interview at the beginning of the crisis. Thus, 77 percent of employees said that it was a positive experience compared to the in-house interview. The following questions have been asked to them.
1. In which type of interview you feel more stress?
Result: 58.1% said the in-person interview while 41.9% said virtual interview.
2. In which type of interview you feel more confident?
Result: 50.8% said the in-person interview while 49.2% said virtual interview.
3. In which type of interview you feel more comfortable to negotiate the salary?
Result: 58.8% said the in-person interview while 41.2% said virtual interview.
After the pandemic, the way of conducting interviews will be enhanced. It is likely people will adopt this new norm of conducting the interview as statistics have proved that employers, as well as candidates, are enjoying and leveraging it. Before the pandemic, only 13% of companies were conducting the interview virtually which has been increased during the COVID-19.
Overall it wise to conclude that virtual interviews are not gonna stop here!