A staffing agency is your savior when you require quality employees but have no clue how to reach them. Staffing agencies help you find your desired employees. They are so good at their job that in 2019, they generated $497 Billion in the USA alone. 
In this blog, we will learn how a staffing agency can help to reach top talents.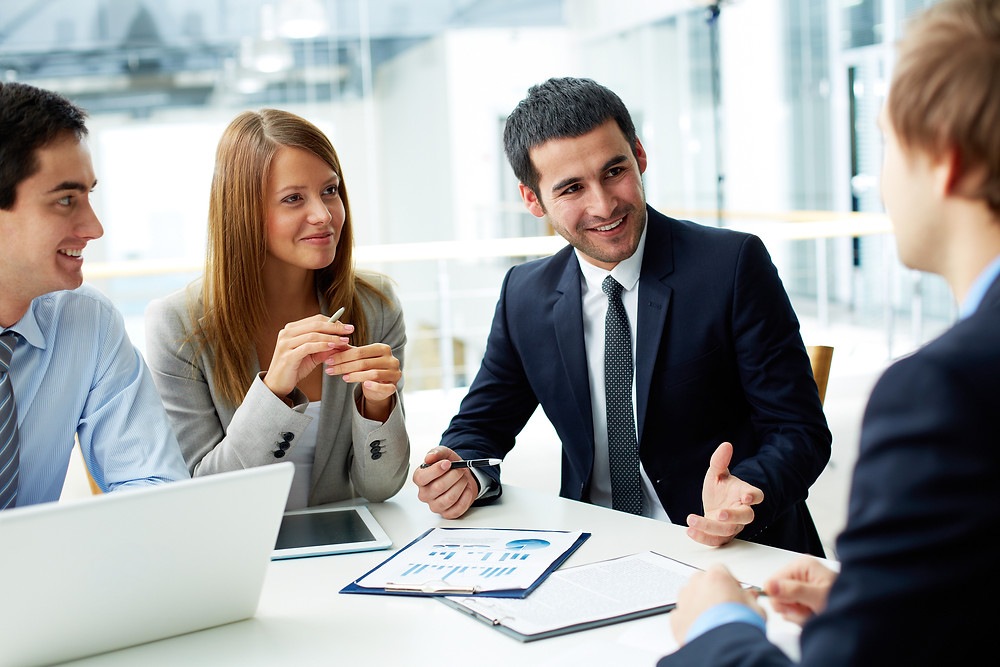 What is a staffing agency?
A staffing agency is a third party that helps in meeting your staffing needs. When you require employees, staffing agencies find, recruit, and hire those employees for you by matching the employee qualifications with the job roles. When you outsource your staffing needs to a staffing agency there is a higher chance for you to quickly fill up the vacant positions. Many organizations outsource to staffing agencies. The staffing agency has a large network as many candidates are registered with them. With a staffing agency, there are higher chances to reach top talents.
How do staffing agencies help you?
Have you ever questioned yourself, "how to reach top talent?" or "how to attract top talent"? The answer is, through a staffing agency. Finding and recruiting quality talent for you is the primary role of a staffing agency. But, it helps you in more ways than that. There are many of your responsibilities connected with the staffing role. So, when the main responsibility is fulfilled other roles fall in place too. For instance, you want a candidate to fill a vacant managerial job position. You also need a mentor for your employees. So, when you hire a manager with the help of a staffing agency, chances are he might be having mentoring qualifications too. So, all your job is done.
 More than 90% of employers use staffing agency services for hire. Here are 7 ways to reach top talents with the help of a staffing agency. You can utilize these services too for overcoming staffing challenges.
 1. Saves time and money
When you outsource to a staffing agency, they have many experts there. Each expert is there for a specific staffing role. For instance, an expert is there for finding candidates from credible sources. He would know which platforms to target, how to use applicant tracking and staffing software, how to target passive candidates, ways for quick talent search, etc. When the applicant tracking specialist shortlists candidates he can send the list to the next experts for evaluating and looking for any missing pieces. It divides the workload and makes it a systematic process. A staffing agency specializes in staffing needs which will save you time and money. If you in-source staffing and have no clue about it, chances are you will get the wrong candidate after a long process which might be unsuitable for the job. 
2. Helps in temporary hiring
Most businesses are reluctant at hiring full-time employees because they seek flexibility, or the job role might be available for a short period. In the US alone, 2.1% of the workforce works temporarily.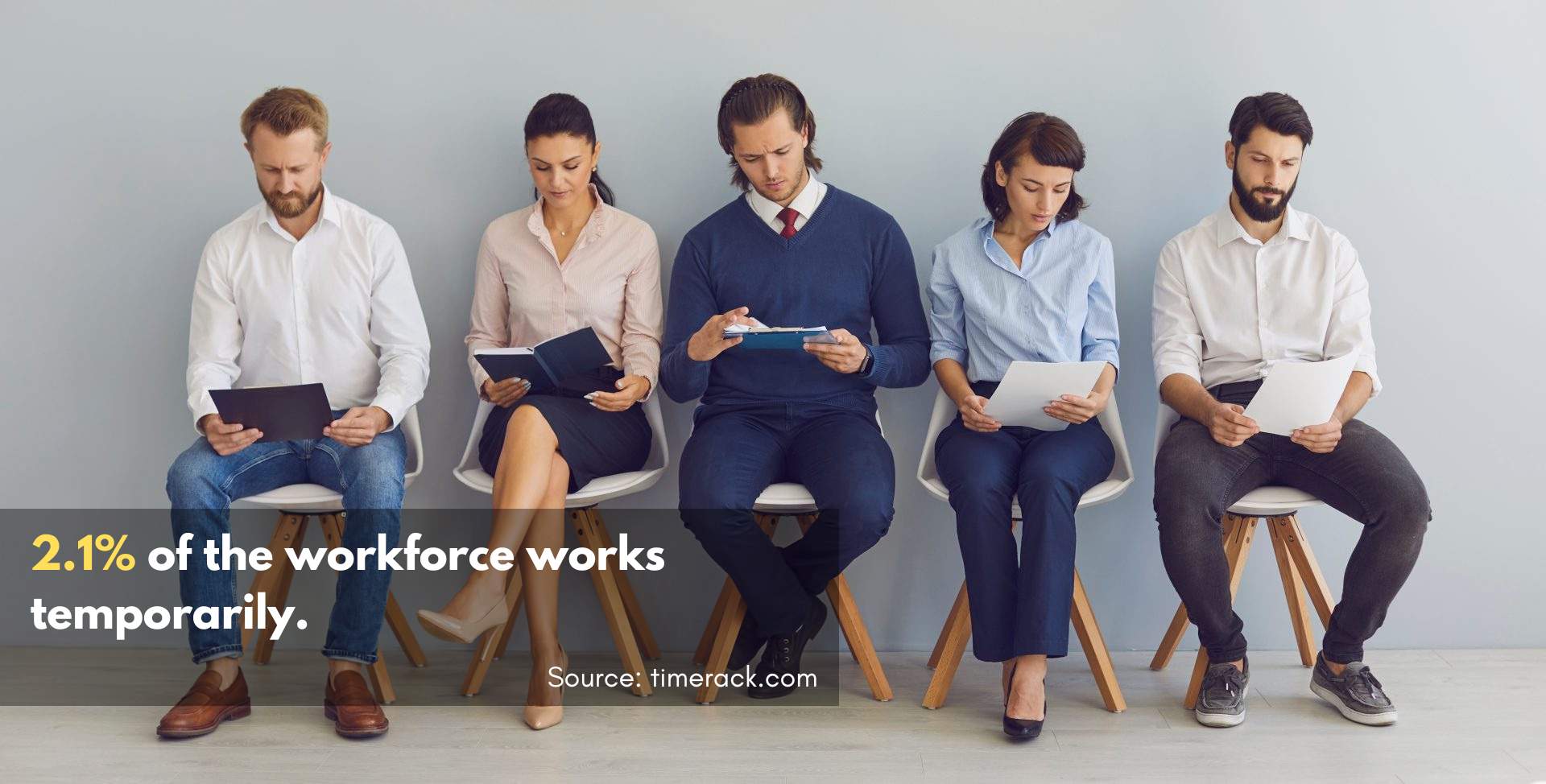 staffing agency helps in temporary hiring. There is no need for you to hire a permanent employee when you do not need one. Chances are, your current employee might be on 2 months' leave so if you do not want your work to suffer and also cannot lay off the employee who is on leave, you should hire a staffing agency.
3. Lower risk
When you hire a staffing agency, it takes all the risks of hiring employees. They do the background checks, fulfill all the legal obligations, and handle the financial risks too. Whether it is employee insurance coverage or taxes, they manage all for you. Relying on internal recruitment practices can sometimes cost you a lot in terms of legalities or finances. If an employee does not work well you can talk to the staffing agency and they can send another employee so this is a win-win situation for you.
4. Negotiates salary
A staffing agency does the job of salary negotiations for you with new hires. When you tell them your budget they bring you the best candidates within that budget or ask you to raise the budget if it is too low. The next thing they do is find qualified employees and negotiate salaries with them in your budget. This saves you from the unwanted burden of negotiating with employees and reduces the risk of bad negotiation. So, the experts at staffing agencies ease your job by handling the task themselves. Note that if the hiring is temporary the staffing agency pays the employees on the employer's behalf but if the job is permanent the staffing agency recruits the candidates and the employers can themselves pay the candidates through their channels.
5. Conducts interviews
Staffing agency experts conduct interviews on your behalf. When they find suitable candidates from a pool of CVs they call them up for interviews where they conduct initial testing. This initial test is a simple aptitude test to assess the knowledge, skills, and other attributes of the candidate. The screening interview analyzes if the candidate can fit the job role and understand their personality traits. If you carry out these interviews yourself it will be a long process with uncertain results so let the staffing agency do it for you.
6. Lesser time-to-hire
LinkedIn found out that companies take from a few days to four months to hire the right employee. 70% of employers take months to hire. If you choose to allow this responsibility to a staffing agency, it will reduce your time-to-hire which will not affect your organizational performance because of the vacant position. When you take longer to fill a vacancy it affects the whole organization because work pauses. All roles are interconnected. For instance, if there is no manager then who will report about employees to senior management? This will keep subordinates relaxed and the top management will have to delay strategy formation.
7. Expertise in staffing
Like you have expertise in your field, staffing agencies have expertise in their field. Suppose you are an auditor, you will know every market trend, software, ways to improve your process, the need of the hour, and so much more. Similarly, staffing agencies have great knowledge and skills in their fields. They study the market trends and look for ways to reach top talent. They understand the need for hiring in all fields and then find the best candidates for you. 
How to deal with a staffing agency?
Here are some basic rules of dealing with a staffing agency.
1. Choose a staffing agency
First, you need to look for staffing agencies that are suitable to meet your needs. Staffing agencies deal in different industries so choose your industry-appropriate staffing agency. You can communicate your reservations with an industry mutual agency more easily. Not every agency is the best so you need to do your homework and learn which has better reviews. 
2. Hire
When you have finalized your desired agency, hire them. You need to contact them, communicate your needs and specify the time and type of hire. Specify the job roles and skills required. Clarity from the very beginning is important for the right hiring. You will have to pay them a fee, sign a contract, and leave the rest to them.
3. Communicate
Constantly communicate with the agency for follow-up and to answer any queries. Do not ghost them at any stage. You both need to be on the same page to find and shortlist the best employees. If you lose contact chances are you may not be fully satisfied with the employee they send you. Moreover, when you find the perfect agency that addresses your employment needs, stick with it. It will be useful for future job roles too.
Myths about staffing agencies
There are a few myths related to staffing agencies. These may prevent you from outsourcing your staffing roles to an agency. So, to protect you from such myths and prevent your organizational loss we will burst these myths for you
1. Staffing agencies are very expensive
Yes, staffing agencies are expensive but not more than your in-house staffing. When a staffing agency takes a high fee it manages all the problems and legalities connected with staffing. If you carry in-house staffing chances are high that you will not have the right resources. This will first make you buy those resources, such as software and experts. After that when you conduct recruiting you may not know where to start. When you hire an agency it is connected to a wider candidate pool and has a better understanding of the market so it will save you from future troubles.
2. Employees at staffing agencies are not reliable
You may think that employees who did not get a job otherwise registered with a staffing agency. This is not true. Some employees constantly want change and staffing agencies are famous for temporary hiring so to work with different organizations employees register themselves with agencies. This is not bad, rather employees gain more experience and are reliable to work with.
Summary
Staffing agencies help you find the best candidates available in the market. They handle all the recruitment and hiring-related tasks. You just need to pay them and get qualified employees that fit your job roles perfectly. But, ever wondered how staffing agencies reach top talents? Even if you learn tips to attract top talents, that will not be sufficient because staffing agencies have specialized processes to reach top talents. If you want to protect yourself from the hassle of finding the perfect fit for your job role then you should outsource this responsibility to a staffing firm.