Technology has truly outdone itself. Today, we have so many inventions marking the numbers to millions of projects worldwide. As of the 2021 UNCTAD report, eleven technologies have a market representation of $350- billion. And this number is bound to rise to $3.2 trillion by 2025.
These technologies include:
Artificial Intelligence

Internet of Things

Blockchain

3D printing

Drones

5G network

Nanotechnology

Solar PV

Gene editing

Robotics
And notably, Artificial Intelligence is the number one technology that is revolutionary on this list. Data on this is that AI, according to the Fortune Business insights 2020, was valued at $27.23 billion in 2019. And this figure is to get to $266.92 billion by 2027. This growth is a 33.2 % increment of Artificial Intelligence services' compound annual growth rate.
So is it a blessing or a curse? Let's find out.
But before we get to the advantages and disadvantages of Al, let us find out what it is.
Definition of Artificial Intelligence
As per Wikipedia's definition, Artificial Intelligence is aptitude executed by machines. This intellect lacks any emotional or conscious attachment displayed by humans and animals in general.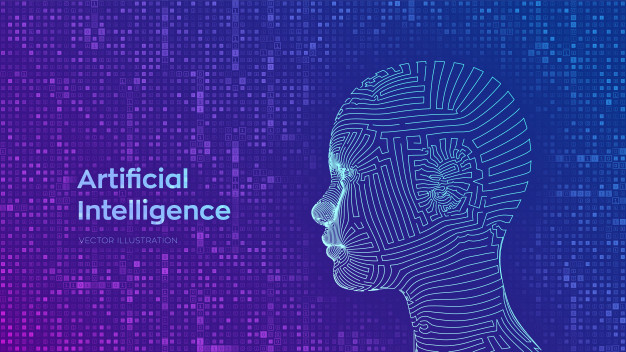 Why is Artificial Intelligence a boon or a curse?
Artificial Intelligence has been both a blessing and a curse to humanity, and some of those reasons are to be discussed in this section. For each sub-topic we highlight, we shall share both sides of the story and let you be the judge whether it is a boon or a curse.
The replacement of human labour
Under this category, AI has been of great help to assist human beings to get work faster. Repetitive tasks get accomplished just as quickly. With an AI machine, this task is efficiently carried out without human interference. One great example is the use of AI machines that clean the floors of a building. By using their sensors, they get to the spot that needs cleaning and sorts it out.
On the flip side, how many of these machines do you think we need to get all the cleaning done? And can they do the same on all surfaces as a person can? Indeed not! Despite these machines being helpful, there is still a lot they cannot do; thus, humans remain on top of the food chain.
Accuracy 
An Artificial Intelligence machine is just as accurate as the algorithm running it. And believe it or not, a human was the brains behind the formulation of that algorithm. This brings us to first the boon:
The boon here is that if the AI is set on an accurate and correct algorithm, then the results are spot on, which is excellent news for manufacturers and other people using these AI machines.
The curse is If the AI machine is inaccurate, even a few inches off, the results are devastating. Think of it this way: imagine an AI machine is working on the calibration and cutting of car parts, let's say an engine part if the measurements are off, even an inch out, when the assembly of these car parts comes, these parts will not fit. And this results in massive wastage. And this is an overall wastage of resources, including material, energy, and even time.
Advantages and disadvantages of Artificial intelligence

Advantages
AI is adaptable by all business ventures
All AI inventions can be employed and integrated into all business sectors globally, making Artificial Intelligence services valuable assets. As a matter of fact, as of 2015, there was a 10% increase of businesses integrating some of AI into their business. And by 2019, that percentage rose to 37%.
This growth marks a 270% growth in a mere four years, showing that AI is a super adaptable concept many companies embrace. Artificial Intelligence has even been named the most disruptive technology. And all intelligence officers and IT gurus all over the world agree on this.
So whether it is agriculture, IT, infrastructure, manufacturing, and processing, Artificial Intelligence services can be incorporated seamlessly and work perfectly.
AI increases business productivity
Every business that has adapted Artificial Intelligence services has attested to a significant improvement of productivity.
In 2018, PWC executives gave the analysis that there was a 54% increment of productivity in enterprises that adopted AI.
AI improves customer service
As of 2018 the Salesforce 2019 reported that 59% of customers worldwide were willing to give their data so that AI can better their customers' experience. And that number went to 62% in just a year.
This is, however, still debated among 39% of clients who have concerns about how their data is utilized.
Disadvantages
The risk of Unemployment
One of the many concerns people have is that Artificial Intelligence, especially the advanced kinds, will result in unemployment.
A study orchestrated by the McKinsey Global Institute stated that intelligence agents could replace 30% of the human workforce by 2030. But that is not all; the same study attests that automation itself will result in about 400 to 800 million job loss. And so people have to either switch job categories or remain jobless.
AI is very costly to implement
On expenditure, the International Data Corp reported that the businesses using Artificial Intelligence services in the USA and elsewhere spend about $35.8 billion. And that was as of 2019. That number is estimated to double and get to an estimate of $79.2 billion by 2022.
And these costs are only on the Artificial Narrow Intelligence, which is the most used kind. Apple's renowned voice assistant Siri cost the company a whopping $200 to make it fully functional. And Amazon used $26 million for Alexa in 2013, and this number has since then doubled.
Take away
Artificial intelligence has come a long way, but we are not yet there. As seen, we are just beginning, and the advancement of artificial intelligence services is becoming more and more prevalent.
To answer the question of Artificial Intelligence is it a book or a curse depends on your judgment. Especially now that you know what it is, its advantages and disadvantages.