What do you prefer: work from home or work at the office?
If we ask the same question to the employees nowadays, more than half the employees will choose to work from home instead of going to the office.
The reason is quite simple, COVID-19.
Working from home is no longer a trendy thing or process as it was before. The outbreak has thrown it out of the trending list. Almost every region, every country, and every business implemented the strategy of work remotely after the declaration of the pandemic which has become the need of the hour.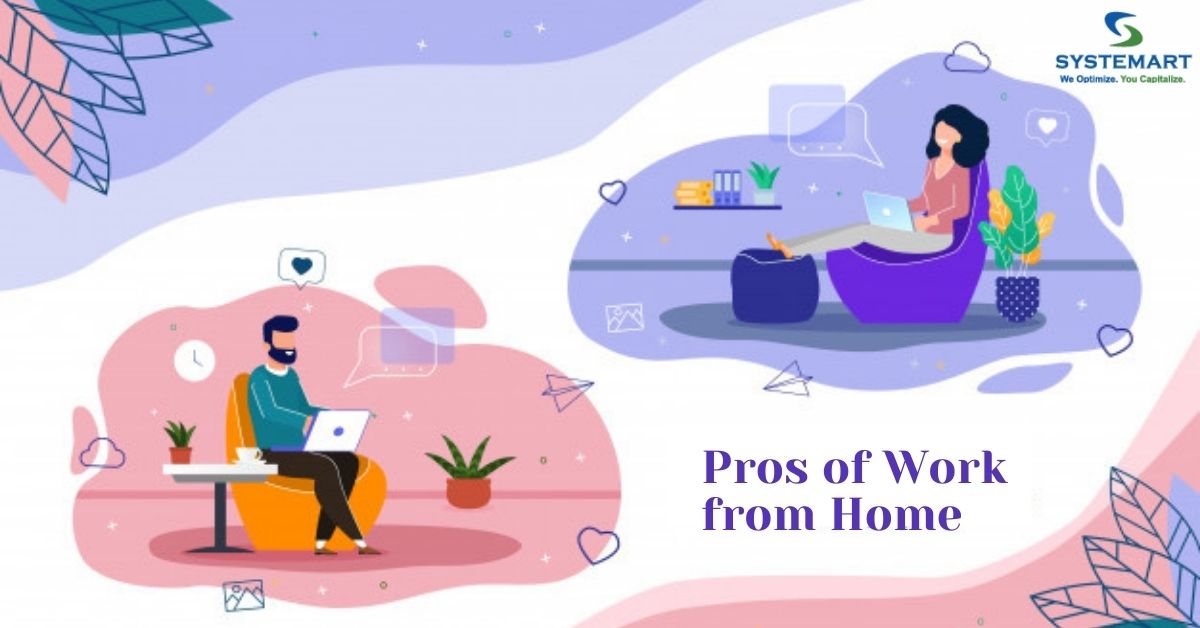 The new norm, working from home, gives the new possibility to the business to reform their way of working and to restructure their business. In the beginning, it can be complicated for employers and for some employees (who don't be so productive while working from home) to work from a distance. But after a long period of remote work, it sets everyone in a comfortable position with some unpredictable advantages, including productivity.
Employees started learning how to be motivated while working from home as they know it will help them in the long run.
Let's see some really undeniable benefits of working from home.
 Great Work Flexibility
Work flexibility is the primary advantage of work from home. Flexibility not only in the order of precisely where you complete your daily tasks and activities but also about the work schedule and the task completion timing.
Work from home gives you the opportunity to look out your work timing in contrast to personal activities. You can fill extra hours one day to reduce the working timing of another day. Your, in time, out time, break time, how many breaks you want to take, everything depends on you, and how you manage your routine.
Hence, working from home empowers the employees to maintain a balance between personal life and professional by utilizing its flexibility.
No Commute
Work from home is a great solution of minimum or no commute. According to the research, Americans spend around 54 minutes commuting each day. By implementing work from home, employees are able to reduce the time that they spend on stressful and unpleasant commutes. Furthermore, it also boosts business productivity.  It also reduces auto consumption and improves the environment.
Good mental and physical health and well-being are correlated with the productive nature of the employees and decrease absenteeism. To attend the office, employees have to spend a lot of time doing activities like grooming, traveling, traffic time, etc. Whereas, working from home provides the employees with a new freshness due to time saved. This helps them to perform their tasks with clarity.
Opportunity To Save Money
Work from home is a cost-effective way for both employers and employees as it gives them the opportunity to save money and diminish their expenditures.
If you are an employee, then you can save costs that are associated with traveling expenses, money spent on a daily meal, small parties in the office like birthday celebrations, etc. Moreover, you will spend less money on clothes and other personal stuff that is a must while working at the office.
And if you are an employer, then allowing the employees to do work from home will help you to reduce some costs related to various resources like office space, furniture, electricity, maintenance, etc. According to the report, it has been found that the company saves approximately $1,900 per employee when they implement work from home strategy. Some employers have started giving options to employees to work from anywhere at lower compensation.
Lesser Employment Barriers
This is one of the major advantages of working from home; it eliminates some employment barriers. And the best instance for the employment barrier is the difference in the physical location.
If attending the office is compulsory, then employees need to choose the place to stay that is near the company in order to make the travel easy and cost-effective. For this, the employee needs to be willing to relocate on rent or must be sought for the home. That might affect employees' productivity rates.
If you are an employer, then work from home will eliminate the distance barrier for you too. How? You become able to hire the candidate without considering the distance or place as a crucial component. Geography is no more important. Hence, employers can form a deeper talent pool. New innovations permit employers and employees to coordinate and communicate without any trouble.
Taking Care Of Children
Whether it's an employee or employer, both are busy in their professional life. With their busy schedule, they hardly have time to spend to take care of their children.
But the pandemic that invented work from home as a compulsory strategy, offers the advantage to the employees and employers to be with their children. To be with children in the term of being with them in the process of their mental growth is helpful.
Working from home allows the parent staff to take care of the children throughout the day not just in the evening, morning, or at weekends. When the parent shares maximum time with their children, the bond amongst them becomes stronger. They can give enough time to the child's proper growth. It becomes easy for both to understand each other. Work from home has an advantage for the parent to make a closer bond with children.
Final Thought
So, working from home is ultimately beneficial for both i.e, employers, and employees, only if they are aware of its advantages and know how to use them.
Great work flexibility, no commute, cost-effectiveness are the advantages for the employees when they adopt work from home, whereas cost savings, improved employee productivity, deep collection in the talent pool are the advantages for employers.