With the global spread of COVID-19 cases affecting everyone worldwide, the World Health Organisation (WHO) has suggested 'social distancing' to curb the pandemic as a measure for public safety. In this critical situation, many companies taking steps for their employees and their health allowing them to work from home.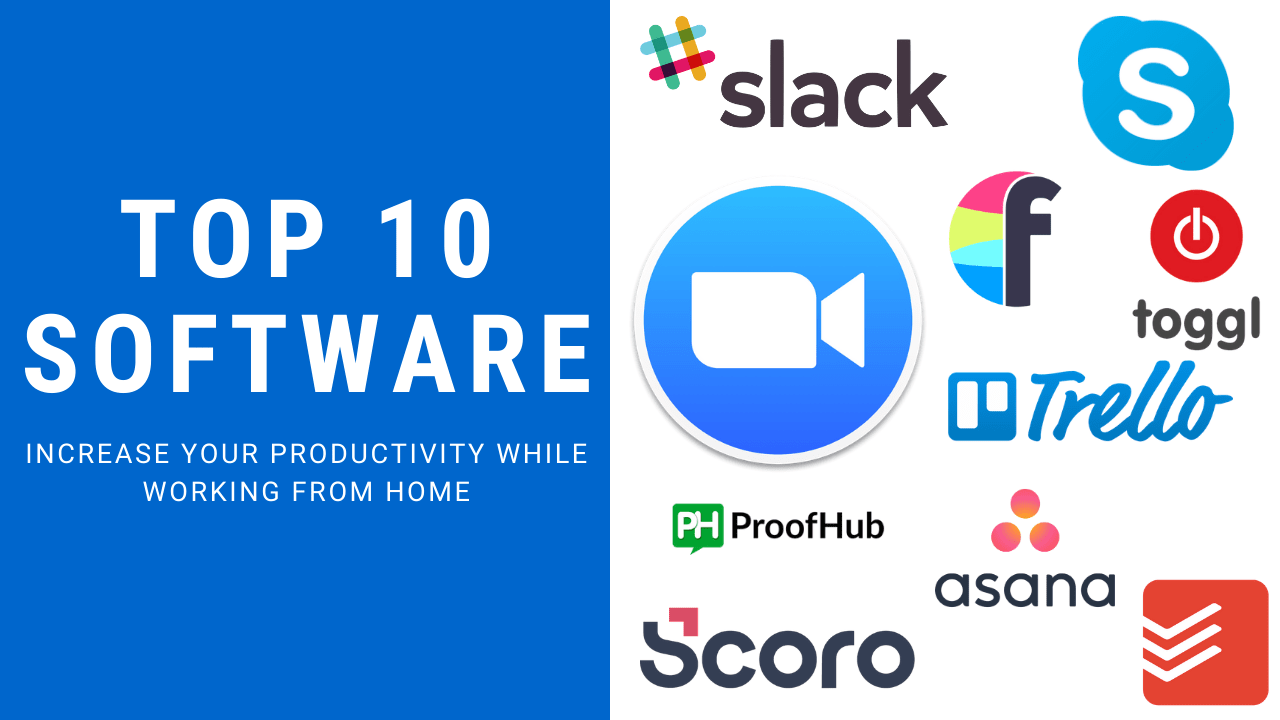 Yeah, when we work from home, we face many hurdles and it is hard to manage productivity level, thus we need some tools to manage activities. It's not an easy task, but there are many tools available to manage productivity. With the help of these tools keeping your productivity high and maintaining the workflow as similar to the office environment.
For communication:
While working from home hard to maintain internal communication hence, you need collaboration tools
1. Slack:
Slack is a proprietary business communication platform developed by Slack Technologies. Slack is the most popular collaboration tool in the remote work community. It helps teams to collaborate across different locations effectively. Slack offers many features, including persistent chat rooms (channels) organized by topic, private groups, and direct messaging. Content, including files, conversations, and people, is all searchable within Slack. Users can add emoji buttons to their messages, on which other users can then click to express their reactions to messages. Slack's free plan allows only the 10,000 most recent messages to be viewed and searched.

2. Flowdock:
Flowdock is a group and private chat platform. Its most interesting feature is its team inbox which aggregates notifications from other channels, like Twitter, Asana, and customer support tools.

For Virtual meetings:
You can make up to all your meetings, either face-to-face through below tools,
3. Zoom:
Zoom Video Communications, Inc., otherwise known as Zoom, is an American communications technology company headquartered in San Jose, California. It provides video telephony and online chat services through a cloud-based and peer-to-peer software platform.

4. Skype for Business:
Skype is the ideal tool for remote business. It has advanced features such as conducting meetings on-the-go, It supports text, audio, and video chat, and integrates with Microsoft Office components such as Exchange and SharePoint.

For Activity Planning

5. Todoist
Todoist tool includes plenty of great features that let you organize tasks by date, color-code them, and so on. This tool is paid and free in both versions but also well designed and user friendly. You can create sub-tasks and dependencies, projects, and sub-projects. This tool is available on every platform like Web, Android, iOS.
6. Trello:
Trello is a web-based Kanban-style list-making application. Users can create their task boards with several columns and move the tasks between them. Typically columns include task statuses: To Do, In Progress, Done. The tool can be for personal and business use. Trello has a variety of work and personal uses including real estate management, software project management, school bulletin boards, lesson planning, accounting, web design, etc.
For Project management

7. Proof hub:
ProofHub is a work management tool that offers a comprehensive suite of collaboration and project management functions. On this platform, you can organize workflow, plan, and monitor projects and discuss them with teammates. With the help of this tool, you can keep an eye on every work and project task.
8. Scoro:
Scoro is also one of the best project management solutions for every organization and business services. If you want all works done in structure-wise, Scoro is the right tool for you. You can also integrate with MailChimp, dropbox, and many more

9. Asana:
Asana is a web and mobile application designed to help teams organize, track, and manage their work. Asana simplifies team-based work management. Project managers can assign and follow up on chores at every stage. It helps you to determine pitfalls and eliminate risks.

For Timing monitoring:

10. Toggl:
Toggl is a time tracking app that offers online time tracking and reporting services through their website along with mobile and desktop applications. Toggl tracks time based on tasks and projects, either through an interactive task timer or through manual entry.