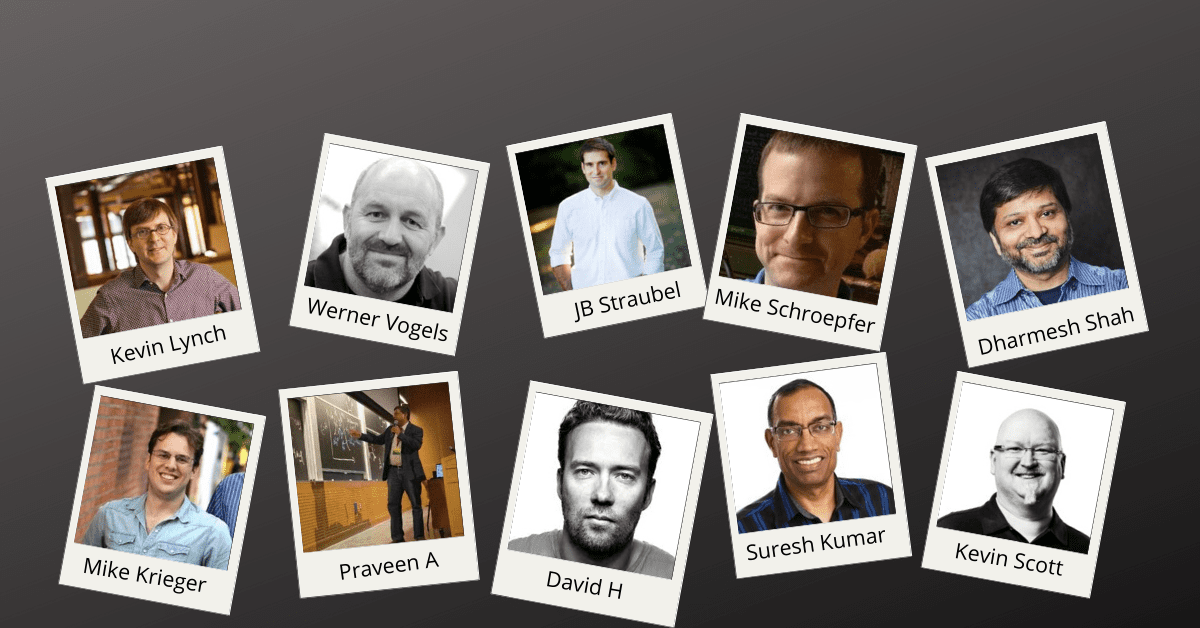 1. Kevin Lynch - Apple
Kevin M. Lynch is an American software developer. He is currently the vice president of technology at Apple Inc., joining in 2013 after working as the chief technology officer of Adobe Systems. Lynch has been responsible for developing the software of Apple's smartwatch project, the Apple Watch, a device he demonstrated at the September 2014 Apple Launch Event.

Connect with him on:
LinkedIn | Twitter
2. Mike Schroepfer – Facebook
Mike Schroepfer is an entrepreneur, technical architect, and manager who is the CTO at Facebook since his appointment in March 2013. He was previously Vice President of Engineering in the same company since July 2008. Schroepfer attended Spanish River Community High School in Palm Beach County, Florida, graduating in 1993. He holds a bachelor's degree (1997) and a master's degree (1999) in computer science from Stanford University.

Connect with him on :
LinkedIn | Twitter | Facebook | Instagram
3. Suresh Kumar - Walmart
Suresh Kumar is the executive vice president and global chief technology officer (CTO) and chief development officer (CDO) of Walmart, Inc. As the global CTO, Suresh sets our technical strategy, combining advances in computing with Walmart's strengths to deliver the best customer experiences. Suresh has 25 years of technology leadership experience, most recently from Google where he served as vice president and general manager of the display, video, app ads, and analytics.

Connect with him on :
LinkedIn
4. Kevin Scott – Microsoft
Scott started his career at Google in 2003 and held numerous positions in search and ads engineering, including receiving a Google Founders' Award, before leaving the company in 2007. He was VP of engineering and operations at AdMob from July 2007 to June 2010. Google acquired AdMob in 2010 for $750 million and Scott became Sr. Engineering Director of mobile ads engineering at Google. Kevin Scott (born 1972) serves as Chief Technology Officer at Microsoft. He was previously Senior Vice President of Engineering and Operations at LinkedIn from February 2011 – January 2017.

Connect with him on :
LinkedIn | Twitter
5. JB Straubel – Tesla
Jeffrey Brian Straubel (born December 20, 1975) is an American businessman. He was the inaugural Chief Technical Officer of Tesla Inc. until moving to an advisory role in July 2019. At Tesla, Straubel oversaw the technical and engineering design of the vehicles. Straubel also had responsibility for new technology evaluation, R&D, technical diligence review of key vendors and partners, IP, and systems validation testing.
In addition to his work at Tesla, Straubel was also on the Board of Directors for SolarCity. He is also a lecturer at his alma mater, Stanford University, where he teaches the Energy Storage Integration class in the Atmosphere and Energy Program.
In 2017, JB established a company, Redwood Materials, working on the recycling of lithium-ion batteries and e-waste.
Connect with him on :
LinkedIn | Twitter
6. Dharmesh Shah – Hubspot
Dharmesh Shah is co-founder and CTO of HubSpot. Prior to founding HubSpot in 2006, Dharmesh was the founder and CEO of Pyramid Digital Solutions, which was acquired by SunGard Data Systems in 2005. Dharmesh holds a BS in Computer Science from UAB and an MS in the Management of Technology from MIT. he is an active member of the Boston-area entrepreneurial community, an angel investor in over 60 startups, and a frequent speaker on startups, inbound marketing, and company culture.

Connect with him on :
LinkedIn | Twitter | Facebook
7. Mike Krieger – Instagram
Michel Krieger (born March 4, 1986) is a Brazilian-American entrepreneur and software engineer who co-founded Instagram along with Kevin Systrom and served as its CTO. Under Krieger as CTO, Instagram expanded from a few million users to 1 billion monthly active users.
On September 24, 2018, it was announced that Krieger and Systrom are resigning from Instagram.
Connect with him on :
LinkedIn | Twitter | Instagram
8. David Heinemeier Hansson – Basecamp
David Heinemeier Hansson (born 15 October 1979) is a Danish programmer, racing driver, and creator of the popular Ruby on Rails web development framework and the Instiki wiki. He is also a partner at the web-based software development firm Basecamp.
Hansson co-wrote Agile Web Development with Rails with Dave Thomas in 2005 as part of The Facets of Ruby Series. He also co-wrote Getting Real, Rework, Remote, and It Doesn't Have to Be Crazy at Work with Jason Fried.
Connect with him on :
Twitter
9. Werner Vogels – Amazon
Werner Hans Peter Vogels (born 3 October 1958) is the chief technology officer and vice president of Amazon in charge of driving technology innovation within the company. Vogels studied computer science at The Hague University of Applied Sciences finishing in June 1989. Vogels received a Ph.D. in computer science from the Vrije Universiteit Amsterdam, Netherlands, supervised by Henri Bal and Andy Tanenbaum. Vogels has broad internal and external responsibilities.
Connect with him on :
LinkedIn | Twitter | Facebook | Instagram
10. Berkshire Hathaway - Praveen Aravamudham
Currently, Praveen is Chief Technology Officer / Vice President of Software Development at Berkshire Hathaway Shoe Holdings Inc. Over 15 years of software engineering industry experience in designing and implementing high-performance distributed software systems in various programming languages. Currently specializing in all Google technologies, python, rails, node, and iOS development.
Over 5 years of international research experience in collaboration with Boston/NY/Switzerland universities leading multinational research in distributed engineering and publishing several research papers in IEEE/ACM conferences.
Connect with him on :
LinkedIn