In this digitizing world, the new technologies always get a warm welcome by the technologies driven sector. Every year we get to see many new innovative technologies. In recent years technologies like Blockchain, Artificial intelligence, Augmented Reality, Virtual Reality and many more were in the spotlight. Here, we entered the year 2020 and the one question is in everyone's mind - which technologies will be in demand this year and beyond? It is crucial that organizations should be up-to-date about technologies and examine before adopting them. The main question they need to ask is - Is this technology suitable for the business?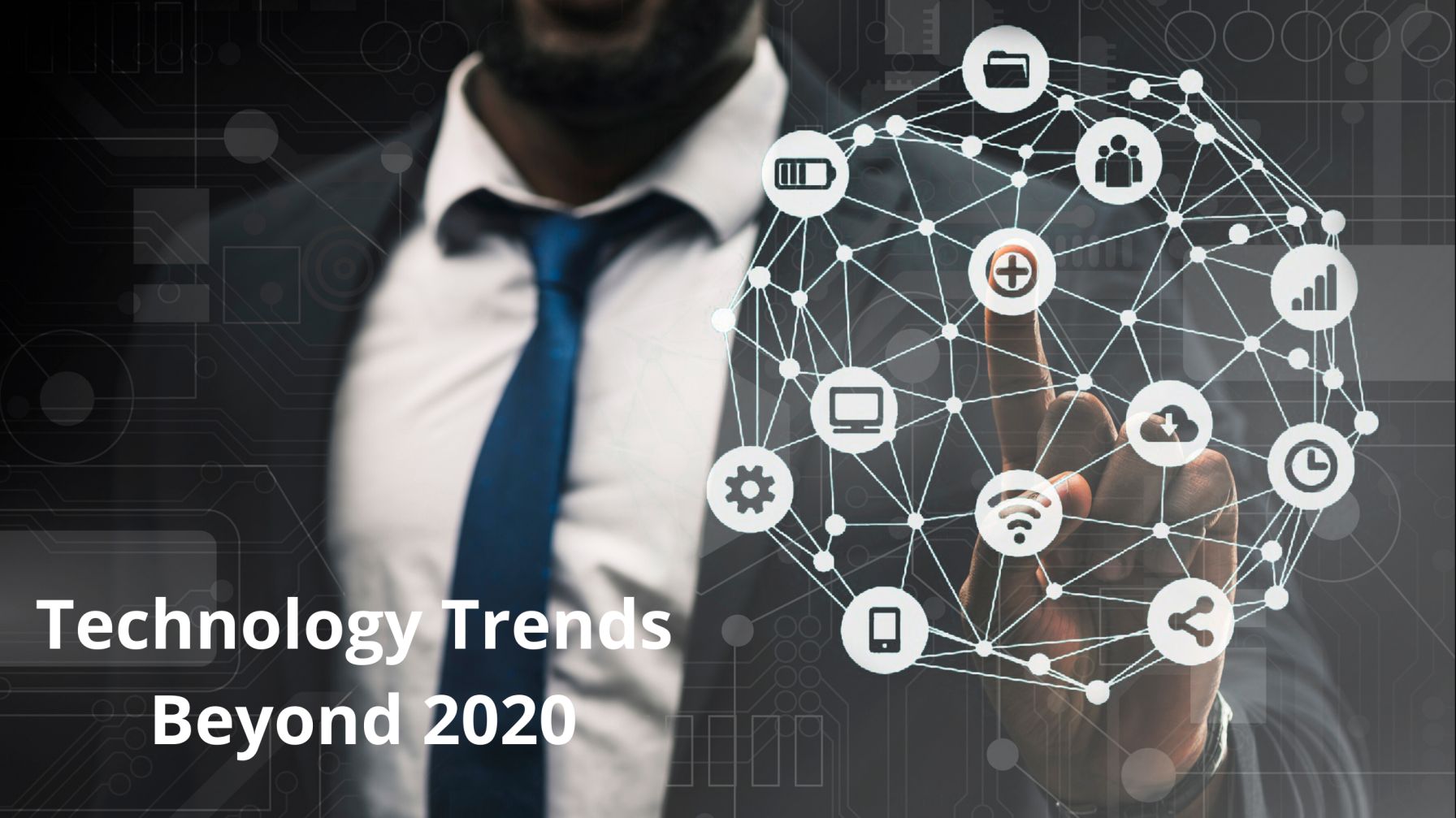 All emerging technologies are dragging us toward the 4th industrial revolution and also accelerating the competition at the global level. The smart organization is always adapting the advanced technologies to compete because they are aware of the client's needs and demand for the technologies.
Let's talk about some advanced technologies which will trend beyond 2020.
Artificial Intelligence
The term AI refers to any type of computer software that works like humans for multiple activities including learning, problem-solving, and self-correction. It is a software, which decides according to its own and makes a decision on the bases of situations. Artificial intelligence has already continued to form influence on the technologies driven industries. But it took many years to show noteworthy growth in developing industries. Presently, myriad businesses are harnessing AI, still, it is used as a supporting tool in businesses instead of a whole replacement of human intelligence. According to the statistics, the market for AI software will reach 5 billion in 2020. And it will rule the market even after 2020, because of its common and simple tasks that make the processes easier and accurate. 75% of companies believe that AI has the potential to boost their ventures. As of today, there are a huge number of apps that use AI such as voice command, text analysis, chatbot forecasting, etc. And it is growing gradually.
Extended Reality
It combines the real and virtual environments with the human-machine interaction, generated by computers. It includes 1) Augmented Reality 2) Virtual Reality and 3) Mixed Reality. In VR, where the interaction happens with digital objects using special headphones or special projected environments. Whereas, AR feeds interactive experience of real-world objects that are computer-generated perceptual information through tablets, smartphones, and many more devices. At last, MR, where the digital and real-world objects interact with each other in real-time, thus, it is also known as hybrid reality. It is predicted that this technology will be used in numerous domains like the healthcare sector, retail, education, etc. Hence, in the future, it will interact with humans, machines, and data in various ways.
Distributed Ledger Technology
The distributed ledger is a database that can be shared and synchronic amongst the different sites, institutions, and multiple people, simultaneously. This database differs from a traditional database. Where each participant has an identical copy of records that are shared across the network. Blockchain is a superior distributed ledger. It is in limelight since the time of Bitcoin, the digital currency invented in 2009. Currently, a great number of organizations considering it as a pilot of the organization. Walmart, IBM, Microsoft, and Bank of America are such few businesses that have embraced Distributed Ledger. It has the potential to change the shape of industries in upcoming years through its unique attributes like building trust between companies, creating transparency in transactions, and providing security.
Hyper-Automation
Similar to  AI, the purpose of hyper-automation is to make the business process easier, accurate, and improve efficiency, with the low cost of human capital. Automation is always a hot topic in the IT industry. RPA was the first step toward the evolution of Hyper-Automation. Up to the present moment, RPA is playing a vital role in the signification processes of different sectors like banking and insurance. It is used by the companies due to its advantages that increase customer satisfaction and complete the tasks in lesser time. This technology brings the process automation components together, integrates the tools, and automates the work. In the future, companies will implement it to create a virtual model, dynamic, products, services, and processes that help companies to become productive.
The involvement of software in each sector is increasing rapidly, ever before. As a consequence, every year we interact with several new technologies. Companies always have a curiosity to know more about technologies that will be in trends over the next decade, as a selection of technology can make or break their reputation in the market. To compete they have to choose the right one.
In the future, it is determined that we will see the evolution of these technologies. That is going to be an advantage for the industry.