We are moving towards a digital era and getting more evolved in it. With the progression in the digital world, the occupancy of data is also increasing drastically. We are very much familiar with terms like data pack and we all know that very are consuming a significant amount of data every day for our day-to-day usage.
Documents are considered to be the backbone of any industry or organization. The whole business can shatter if the documents are not saved and used properly with adequate measures. A document may be of different types like physical and digital documents. Documents contain data and information that is essential for every organization. If we consider the example of the government sector, official identities are the documents. These identities need to be taken care of properly by users as well as by government officials. The government also has a backup of these identities in their database and manages them properly for future use also.
What is Document Management?
Document management is the process in which all the documents are managed effectively. Management of documents includes the whole process from storing, saving, indexing, tagging, and retrieval of documents. Document management is required in both cases whether documents are physical i.e. paper records or digital documents.
Physical documents are stored in warehouses and digital documents are stored on servers and hard drives. As we are heading into the digital world, physical documents are also converted into digital format and further managed.
What is Document Digitization?
Document digitization is the process in which paper records or physical documents are converted into digital format. In this process, the physical records are first arranged and then scanned with help of OCR. The scanned image is verified for the best quality and then stored. These images then are converted to the client-required format like jpeg, pdf, etc. Digitized documents are quite easy to store and easy to create a backup.
What is Document Management System?
The document management system is an environment developed to store and manages documents. The document management system is enabled for physical documents and digital documents. The document management system is completely responsible for the whole process of management including a collection of documents, packaging, indexing, tagging, scanning, storing, back up, and retrieval as early as possible.
Benefits of Document Management System
Document storage system comes with a number of benefits. Due to the wide list of benefits, the demand for DMS is on rising. Every organization these days is looking for appropriate software that can help them manage their documents. As it is commonly understood now that data analysis is the only key to a successful business in the competitive market. Data can only be analyzed properly if and only if documents are managed properly. Here is a list of some general advantages that are offered by DMS solutions-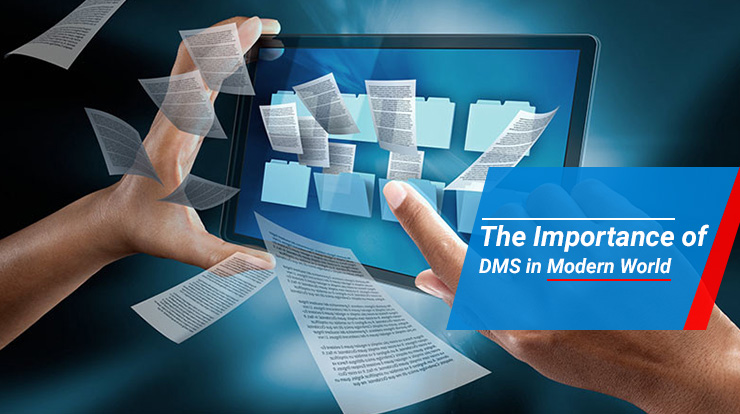 Cost-effective
In my view the most important and essential benefit for every organization. Every company is looking to opt for solutions that will lend cost-effective benefits. Opting for a DMS is always a better plan and easy to pocket. You save a lot while using document management software for your company. You are able to manage human resources properly as it reduces the retrieval time drastically. You can search for a required document in a matter of a few seconds. Also, using papers for creating documents is hard on the pocket. Eliminating paper records and using the digital format is also an eco-friendly measure. I think cost-effectiveness is the major reason every business is looking for a document management system these days.
Efficient Backup
Creating backup in the digital format is far easier than creating a backup of physical documents. Digitization of physical documents and using document management software to store and manage it is a better choice. Physical records backup requires human resources and huge monetary value. Also, physical space is also required to store physical records. Thus, creating backups is very difficult in physical format. Rather, digital backups are very easy to create and budget-friendly also. Backup can be created in a short time and stored on servers for instant use also.
Fast Retrieval
This one is among the main features of a reliable DMS. Storage and management of documents is initiated for a better search process. As we all have heard that time is money, so if searching takes time it will have a negative impact on our business. Effective search and fast retrieval of the required documents is the desired output organizations are seeking from a document management software. At the end of every management process, the desired output from a business point of view is to have fast and accurate retrieval. Fast and accurate retrieval will help the organizations perform much better and improvise their return on investment. Faster digital retrieval will help businesses to perform the same task in less time as compared to the time taken in manual search.
Data Security
Yet, far too often, businesses leave data vulnerable to theft or tampering by storing sensitive information in insecure folders accessible to the whole network, keeping files on hackable devices, or simply leaving documents in unlocked filing cabinets and drawers.
A DMS uses role-based access control to prevent unauthorized access to information. This means that employees can only access and change documents that related to their specific position and that their managers have given them express authorization to work on.
Ecofriendly
By going digital and using a digital document management system, you are one step ahead in contributing to the environment. It is known by everyone that a massive amount of trees are cut every day in order to create paper. This paper is used in stationary of office or sometimes just for waste usages and rough work. The opting digital method will reduce the usage of papers and reduce the degree of deforestation. So, a digital platform will also help us to save the mother earth from global warming and other environmental hazards.
Summary
Investing in the document management system is crucial. Find an appropriate DMS for your organization and step forward towards success in a competitive market. Reduce your expenses and earn more return on investment by enabling document management software with your current system.