Heading towards the digital world, it seems like it would be a curse to imagine human existence without smartphones. The usage of mobile apps also has exploded over a couple of decades. More and more folks today use apps to order their favorite food, book flight tickets, perform a financial transaction, watch movies, and whatnot. 
Today, the business world is a digital sphere, where distance and boundaries do not matter to stay in touch with anyone. Besides, businesses are also taking advantage of this mindset and coming up with cool applications that save people's time, money and allow them to get things done without stepping out of the home or offices. In this article, we will look at some mobile app development trends. 
It's not shocking anymore that mobile apple is among the rapidly growing sectors of the global technology world as there are 2.1 million Android apps and 2 million iOS apps are active on leading app stores.
A fast-changing landscape of innovations and new technologies characterizes the mobile app development industry. As we move into 2022, we expect to see still more amazing trends and applications for mobile. From chatbots to mobile app wireframing to push notifications and whatnot, there are many trends to experience. It is important for businesses to stay up-to-date with recent app trends since this information enables them to improve their mobile presence and make more informed decisions.
If you are reading this, you are likely willing to take a quick tour into the app development world and learn about its emerging innovations, trends, and insights. So what are you waiting for? Tighten your belts and we start it right away.
Mobile App Development Industry at a Glance in 2021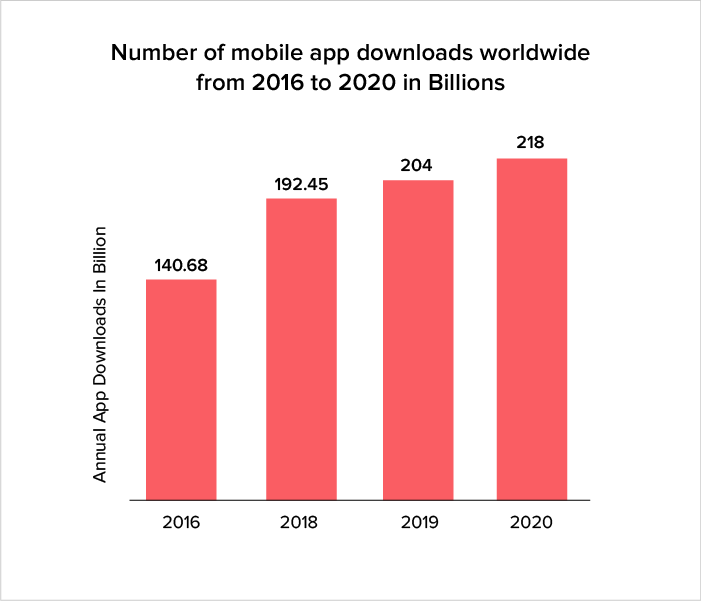 Source: MobileAppDaily
Over the past decade, mobile apps have evolved from being a technological novelty to one of the most important tools for making modern business. We spend more time online on our mobile devices than on any other device, according to the most recent research "We are social" report from Hootsuite. People use mobile applications roughly 90% of the time.
It seems like more people own a smartphone than any other essential thing. Today, more than 70% of mobile traffic is generated by smartphones, whereas 75% of emails are being opened on mobile rather than desktops. 
According to reposts taken from Statista,
The mobile app market is all set to rise 385% by 2022.

In the previous year, there were on an average seven billion smartphone users globally

By 2022, App Store use spend will go higher and soon cross $157 billion. 
Just as with any technology, apps change swiftly and heavily utilize the most recent technological trends. How will the world of custom mobile app development in 2022 be shaped by the most significant factors?  Let's go through it quickly.
What is the Next Big Thing in Mobile App Development?
People's preferences keep changing as technology trends are. Mobile applications have become increasingly important, in fact, mobile devices are responsible for about half of all internet traffic. While mobile apps are the hottest technology right now, they aren't going anywhere anytime soon. That is, not until another technology replaces them.
Despite the fact that no one can predict what the next superior technology will be. Until then, mobile apps will remain a force to be reckoned with in government, business, and lifestyle. 
But how do users access these emerging trends? Entrepreneurs? Developers? Investors? Who? The simple answer is mobile app development services that make the lives of users comfortable and help businesses to strengthen their user base. How about getting to know each of them individually? Let's start now.
Apps for Foldable Phones
In the modern marketplace, folding devices have just begun to leverage their power. Hundreds of mobile apps have already been modified to make use of this technology. If companies want to stay competitive, they should focus on building applications optimized for foldable devices. A new approach to application development will probably even be necessary.
Internet of Things (IoT)
An Internet of Things device consists of a set of connected devices that can share data over the internet, and that have embedded sensors to collect data. Smart dustbins work by detecting humans nearby and opening themselves if someone is nearby, as an example. Intelligent homes, which integrate multiple apps controlled by remote controls, are also a common example of IoT.
Blockchain
It is predicted that we will see mobile apps using blockchain technology in the near future. Blockchain is a method for storing transaction records that can only be accessed by required parties and can not be changed. Cryptocurrencies are built on this foundation, and they are considered to be the next wave of storing data in a transparent manner.
In the future, we will most likely use Blockchain technology in any transaction involving more than two parties sharing and controlling data. Mobile apps will soon gain access to blockchain data, making blockchain the backbone of data access.
Blockchain-based apps will allow users in the future to verify the validity of transactions without needing to rely on third parties. All transactions are recorded chronologically, and they cannot be altered.
5G Technology
There is nothing new about 5G technology, and you would be right. A worldwide launch was conducted by Verizon in April of 2019. Although currently not widely used, it ranks among the latest trends in app development for 2022.  5G is superior in four ways to existing 3G, 4G, and LTE networks:
Speed: 5G's download speed is 100 times greater than LTE 

Latency: Ultra-Reliable Low Latency Communication (URLLC) allows Internet of Things (5G) devices to operate mobile apps in real-time.

Connectivity: More than 2,000 devices can be connected to the same network without lag or interruption on a square kilometer

Bandwidth: By providing increased bandwidth on low-, mid-, and high-bands, we will enhance our previous point of connectivity
We know these technological terms are tough to understand. Hence, here we have taken real-life examples. 
A video can be streamed in 4K quality within the app;

The accuracy of location can be enhanced with GPS-based applications;

In order to overcome hardware limits, cloud services can make cloud components more accessible, allowing customers and developers to rely only on cloud components.
Augmented Reality and Virtual Reality
A great example of augmented reality is Pokemon Go, which uses a camera and smartphone to bring digital elements into everyday life. In contrast, Virtual Reality is more of an immersive experience that enables you to escape the real world for a while and escape into the digital one.
The Oculus Rift is a great example of what VR technology is capable of, continuing our gaming theme. There will be new features available to AR and VR in 2022, such as motion tracking and individual barriers. A number of AR-based applications will be both mobile and practical.
Many businesses will benefit from this, such as the medical industry, tourism industry, educational sector, and eCommerce-based businesses.
mCommerce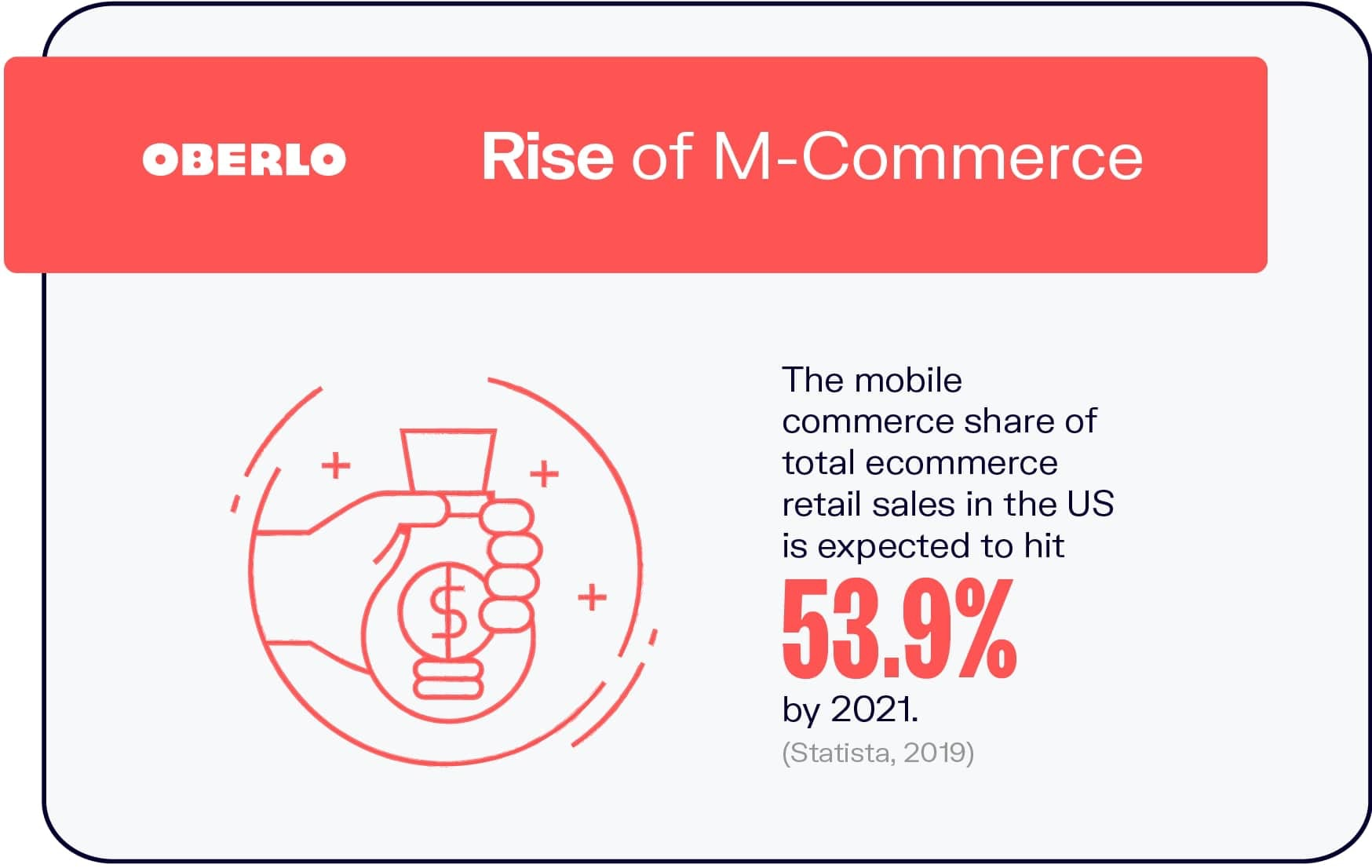 Source: Oberlo
Mobile phones are quickly replacing bricks-and-mortar store operations, which began with e-Commerce platforms. In order to cross- and up-sell, the retail industry will make full use of mobile technology to embrace the m-Commerce trend.
An eye-catching gallery of products with discount programs and teaser auctions, a shopping cart with suggestions for additional items, delivery, and return options, and integration of preferred payment systems are just a few of the many features to be implemented via mobile. 
Businesses want a streamlined shopping experience to boost sales and customer loyalty. As a result of omnichannel customer engagement and related marketing efforts, some back-office operations will still run on desktop devices or in the cloud.
Another industry that can benefit from mobile commerce is the hospitality industry. Introducing geo-fencing technology is one way to reshape the way restaurants, cinemas, hotels, and event planners operate in the future. A geofence triggers an app to present relevant information about nearby events, available tickets, space availability, and social networking options, just to name a few.

Summary of Emerging Mobile App Development Trends
For serving their target audience, businesses of all sizes and types prefer to have mobile apps. Many business apps are available on the Apple and Google App stores for changing business needs. Mobile app development is still in high demand with numerous apps being developed. New technologies and stunning features are used to develop today's mobile apps and the above-mentioned trends will definitely emphasize consumer retention, enhanced experience, and engagement.