Technology has come a long way. From machines weighing hundreds of pounds taking minutes to perform a single calculation to a single tablet running multiple applications at the same time, the leaps are undoubtedly large. But perhaps the biggest and most astonishing piece of technology that leaves people a little speechless every time they encounter it is Artificial Intelligence.
Artificial Intelligence refers to the intelligence displayed by machines as compared to the natural intelligence that humans possess. This intelligence means that the machines possess thinking capability and can make decisions for themselves. There is quite a bit of programming and coding that goes into creating Artificial Intelligence in machines. It is, in simpler terms, a simulation of hman intelligence in computers and machines.
AI chatbot is a program that can simulate conversation in human languages. It is used by many companies for their websites, as this allows quick responses 24/7. Additionally, it saves up resources and a lot of money, as the program can simply replace customer service agents. Machine Learning and Natural Language Processing are used by Artificial Intelligence to hold conversations like humans and also to learn new responses through experience. Landbot, ManyChat, REVE Chat, and Survey Sparrow are some of the most popular AI chatbots available on the market at the moment.
Benefits of AI Chatbots:
There are many advantages of an AI Chabot, some of which are mentioned below.
1. Companies can save a lot of time and money by employing the use of AI Chatbots.
2. AI chatbots provide better customer satisfaction by streamlining conversations between people and machines.
3. These chatbots can provide almost human-like conversations.
4. Companies can customize their customer experiences without altering any codes.
Recruitment Chatbots:
AI Chatbot in Recruitment or Recruitment Chatbots are software applications that are capable of simulating human conversations and decision-making skills during the recruitment process through the use of Artificial Intelligence. Recruitment Chatbots are capable of reading and understanding human language in written form and can reply in like. These chatbots can be integrated into the recruitment process through SMS, email, Social media platforms, or special messaging applications.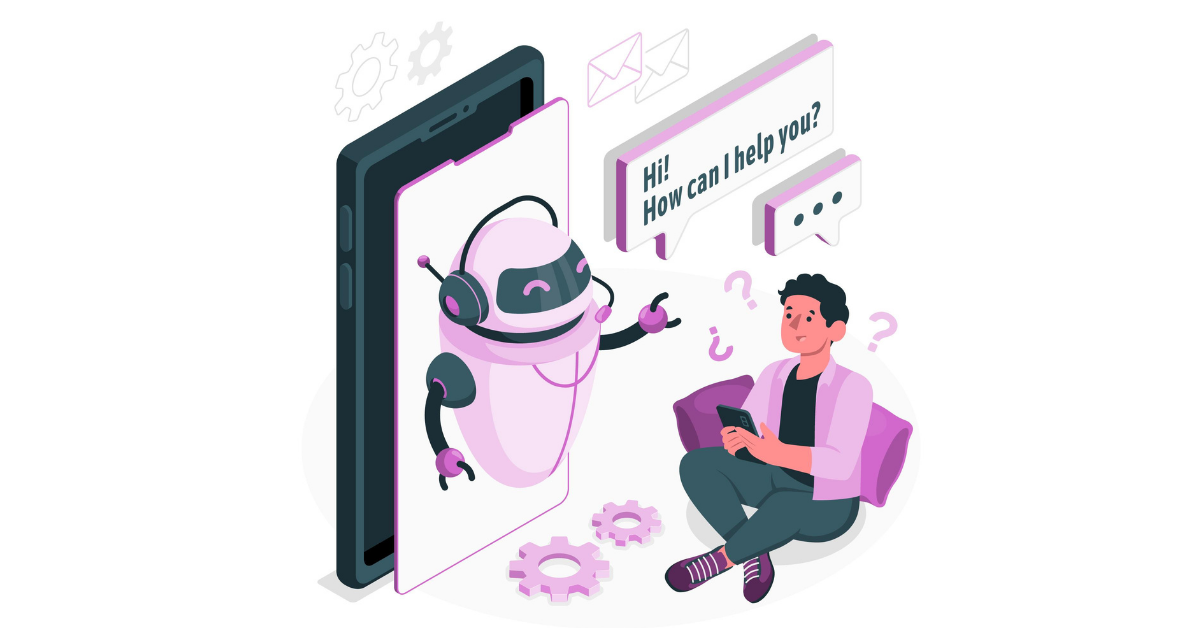 Recruitment is a long and drawn-out process, most of which is the same repetitive thing over and over again. It is every Human resources department's wish and dream to have an assistant who can go through all the applications received for a job application and weed out the ineligible ones so that the rest can be tested and interviewed by the company. According to an estimate, Recruiters and Human Resources departments spend 80% of their time on these repetitive, low-add activities. Due to this low level of productivity and efficiency, companies have been driven to find alternatives that save both time and resources.
We encounter AI chatbots in our daily life more times than we would like to think. While surfing through the internet, we encounter an AI chatbot on most websites we visit, which we often ignore without paying much attention. Whenever we have a query or question we ask the AI Chabot of the website, which replies through the pre-programmed answer, and its Learning through Natural Learning Process gives an appropriate answer.
The capabilities of an AI chatbot depend on what the programmer designs it with. Some AI chatbots are capable of only answering questions that have been pre-fed to them. Others can formulate answers through machine learning and some are capable of much more than that as well. In the Recruitment process as well, some AI chatbots for recruitment may simply collect the basic information of the candidates, some may sift through their applications and take out the ineligible ones, and some may arrange the applications according to their given credentials, ranking them from most to least suited, the possibilities are endless.
Benefits of Recruitment Chatbots:
There are numerous benefits to using an AI chatbot in recruitment. According to a survey, 99% of people have used a chatbot for one reason or the other and 80% have described their experience as positive. This experience is similar to AI chatbot recruitment.
Screening Applications:
When a company posts a job opening, it receives hundreds of applications. It is a tedious task to scan through these applications and find out which applicants fit the requirements. An AI chatbot in recruitment can initiate a conversation with the candidate, asking them questions one by one, such as name, personal information, educational background, skills, work experience, and such. Then by matching the given information with the requirements given in the job opening, it can evaluate whether or not that candidate is suitable for the position.
Contacting Candidates and Scheduling Interviews:
After accessing which candidates fit the job description and which do not, the AI Chatbot contacts those ineligible, informing them that, regrettably, they will not be asked to appear for the interview as they do not fulfill the requirements of the company. To those eligible, the Recruitment Chatbot sends an interview invitation. The Chatbot schedules interviews for all the eligible candidates, making sure that the timings don't overlap. The HR Department will then have to only conduct interviews according to the set schedule.
Addressing Queries:
Whenever a candidate is applying for a job, they have many questions regarding not only the position but also the company. Recruiters usually have to make time to answer all these questions to remove any kind of confusion. But this problem has been resolved with recruitment chatbots who can answer these queries immediately.
Candidate Experience:
Every candidate must have a positive experience during the recruitment process as it impacts the employer brand. 80% of people who have used AI chatbots claim it to be a positive experience, whereas humans, who are not immune to being tired, do not have such a high percentage of positive experiences.
Some of the most well known companies that use AI chatbots in recruitment are:
1. Hiring Chatbot MYA system is used to streamline the recruiting process for companies like L'Oreal, Hays and Deloitte.
2. Anixter International uses the AlloO solution chatbot to hire new employees.
3. Alcoa uses HiredScore chatbot to process the large number of applications they receive for their job openings.
4. Hiretual was used by Chenega Corporation to connect with the potential candidates for their job openings through social media.
To conclude, Artificial intelligence is the future of technology and soon enough it will be integrated into all aspects of life. AI chatbots for recruitment are not only time-saving but also help save resources and provide a better customer experience.