Our Service Portfolio:
Data Science
Our Team helps you find new opportunities and fix the existing bugs hidden from the big data.
Data Visualization
Through our data visualization services, our experts help you take the right decision through understanding and visualizing data.
Data Engineering
Systemart helps you understand, integrate and utilize the collected data. We make data collection accessible from different sources through Systemart's data engineering solutions.
Healthcare
We allow OEMs and healthcare system integrators to establish cross-device connectivity and implement smart features into medical devices and related software systems. Highly beneficial for the elderly, patients with chronic conditions, and those requiring constant supervision.
Automotive
We offer IoT modules that streamline development of connected car applications, drive and stay in touch with the world around at the same time, and enjoy a variety of infotainment services within a secure cloud environment.
Manufacturing industry
Systemart's open-source platform serves as a control hub for production facilities wherein manufacturing production facilities and products themselves can be equipped with computing hardware and connected using standard networking means. This allows separate parts of a production line to communicate with each other in near real time and makes the entire manufacturing process much easier to monitor and control.
Wearables
Our IoT platform supports wearable technology with ready-to-use IoT functions and applications. It can be integrated with tiny microchips in wearable devices easily and enable instant interoperability, profile management, data collection, notifications, security, and other features.
Retail
Our open-source IoT platform allows you to quickly implement necessary applications for tracking goods with RFID tags, ensure items on-shelf availability, utilize Bluetooth beacons to provide customers with personalized mobile shopping experience, and set up digital signage in the store to attract visitors and help them navigate through your products, discounts, and loyalty programs. IoT retail solutions can help you ensure that your customers have thorough information on everything they might like in your store, and thus bring them closer to a buying decision.
Our Process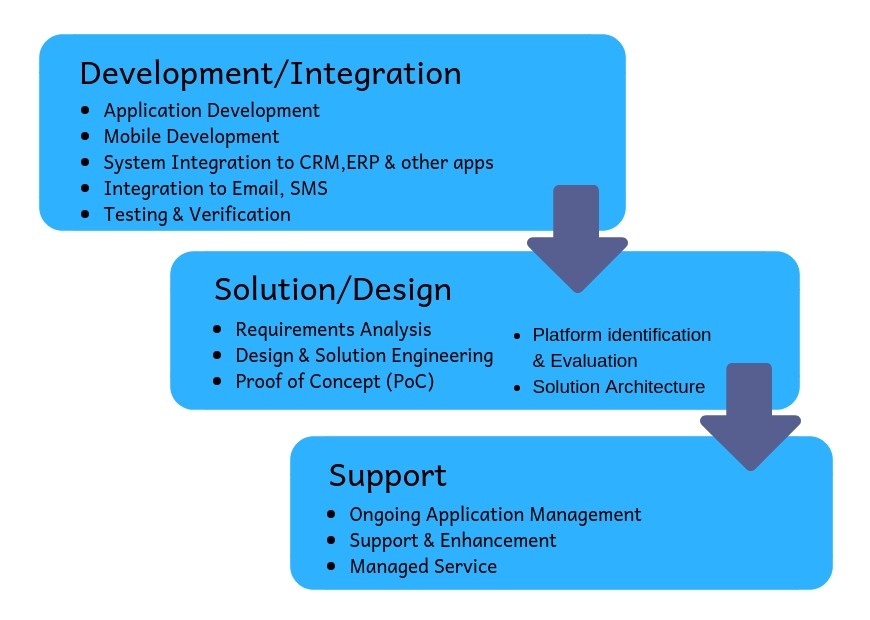 Platforms we use:







SAP HANA Cloud Platform for IoT