What is Artificial Intelligence is that it depends on who you ask. A layman with a fleeting understanding of technology would link it to robots. They'd say Artificial Intelligence is a terminator like-figure that can act and think on its own.
If you ask about artificial intelligence to an AI researcher, he/she would say that it's a set of algorithms that can produce results without having to be explicitly instructed to do so.
Talking about virtual care, pandemic time boosts the need for it. AI in healthcare is used in machine learning algorithms and software. Basically, AI is the ability of computer programs to estimate conclusions that depend on the input data.
These algorithms recognize patterns in behavior and create their own logic. The basic aim of AI technology in healthcare is to analyze the relationship between prevention or treatment techniques and patients outcomes.
What is the existing scenario of AI & machine learning in virtual healthcare?  
The Healthcare sector has a bundle of data to maintain, analyze, time-track, and sustain accurate data becomes very important. The pattern of big health companies merging allows for greater data accessibility, which lays the groundwork for the implementation of AI algorithms.
The healthcare activities and responsibilities are complex, and this complexity & the burden of increasing the demand and data management has led to the increase of AI.
Different AI types get involved in Healthcare, in the process of treatment, diagnosis, recommendations, and all other activities.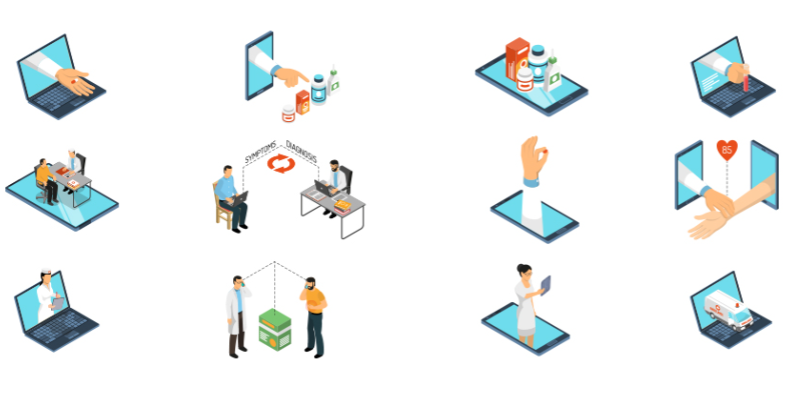 The first step towards AI is machine learning- Don't confuse AI with machine learning, both are different things.
The difference between AI and machine learning
These two are fascinating words in the market right now. Both the terms have been used interchangeably but it's probably not the same. Machine learning utmost is the application of AI which provides easy access to machines so that it learns to maintain everything itself.
International business machines (IBM) and Google have already extended their hold in the healthcare AI industry. Microsoft is using imaging analytics, vision vulnerability, and serious problems like cancer.
Google has come forward in diagnosis and in pathology as well. IBM is way ahead in the genomics population, health management, and pharmaceuticals. 
How AI is transforming Virtual Care?
AI has made dynamic advancements in the healthcare industry with predictive analytics.
The result of applying AI in healthcare is delivering efficient and healthcare processes.
Use of AI For Quicker diagnosis:
With the help of AI, quicker diagnoses are quickly by delivering easy data access.
It will help the patient tremendously in case of an emergency as well.
Using AI quickness development in pharmaceuticals:
AI helps in new research and finding new drugs to treat patients in a better way will eventually help the pharmaceuticals.
Trend estimated that it will flourish by 160? tween 2017-2030.
Using AI in insurance automation:
AI technology helps the insurance sector to secure all the data perfectly and to maintain the accuracy of every client's data.
AI adoption brings upliftment in trust and education:
The main objective of adopting AI should be to build trust among the patients by educating them. It is preferably noticeable by utilizing AI in healthcare to offer the right knowledge to the patient and healthcare.
What implications does AI make?
The socioeconomic benefits of AI-enabled wearables can mostly be reaped in workforce improvements, reduced patient presentations, freeing healthcare professionals to concentrate on what they do best, and financial resources.
Furthermore, significant improvements were observed in the access and quality of care, as well as health outcomes, thanks to the role these technologies play in enabling patient-centric prevention and care.
While the wearable can be used by patients themselves, many opportunities arise for healthcare professionals as well. A wearable remote monitoring arm strap, for instance, can continuously track patients' vital signs, and send them for analysis by AI technologies.
Nurses are automatically alerted if there is any deterioration, instead of having to check on their patients with daily home visits, potentially saving up to 301.8 million hours...
Healthcare professionals can also use wearable activity trackers before and after surgery to monitor patient recovery. By analyzing step counts, AI technologies can reduce the risk of re-admissions.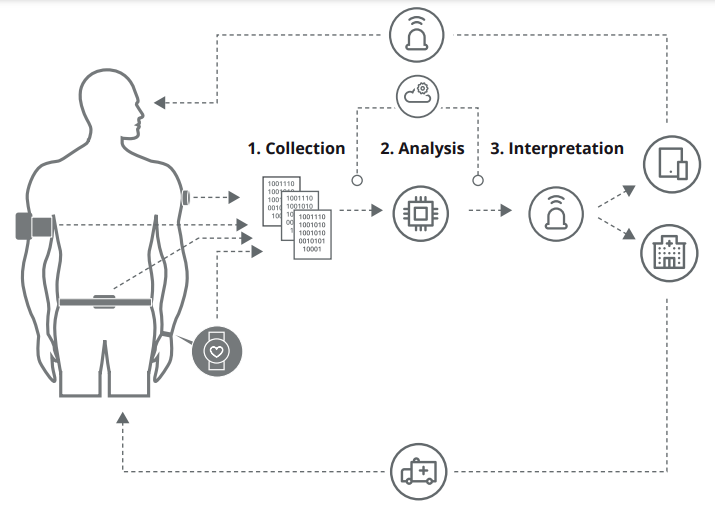 Case study of using AI in healthcare:
Case one is the eye surgery conducted by robot:
The best case of AI treated human eye surgery with a robot. This incident was conducted at Oxford's John Radcliffe hospital, where 12 patients are involved.
Patients are divided into two groups, one group is under the doctor's surveillance and another group is under robot surveillance.
Case two is virtual nursing assistant:
Syneos health said that approximately 64 patients would be comfy around robots.
Care Angel's virtual nurse named 'Angel' is another successful example of AI and ML. Angel utilizes constant and timely checks via voice. It even uses AI technologies for better medical results. Not just that, it even manages and communicates the progress and details in real-time via relentless notifications.
Sensely, another virtual nurse from San Francisco raises approximately $8 million to deploy a number of virtual nurses to different healthcare providers. The nurses aim at keeping apt communication with the patients, without needing any human nurse to do any task.
Case three AI as a support admin task:
A case of Cleveland, where IBM's Watson is used to support the huge data. It fetches all the data of the patient and helps in quick performing tasks.
It performs all the activities with natural language performance, with papers, data entries, and all stuff.
Case four AI image analysis helps in healthcare:
In this case AI image analysis helps in scanning the images 1000 times quicker.
It starts with training the algorithms very quickly and efficiently.
Conclusion:
AI technology promotes patient care remotely. Virtual assistants and care make patients serve more comfortably. One can think of, does AI replace humans? But it does not sound true that replacing humans with technology is not possible because people with technology are good going. But technology without people is not good.
Telemonitoring, telescreening, and electronic health records using AI technology. Artificial intelligence is not rephrasing the healthcare systems but it is providing virtual care with innovative virtual assistants with dynamic up-gradation.
Virtual care is a suitable example in modern healthcare to facilitate healthcare providers, increase patient access to care and decrease the overall cost of healthcare units. And artificial intelligence (AI) is the key to unlocking expectations and preferences in the future.